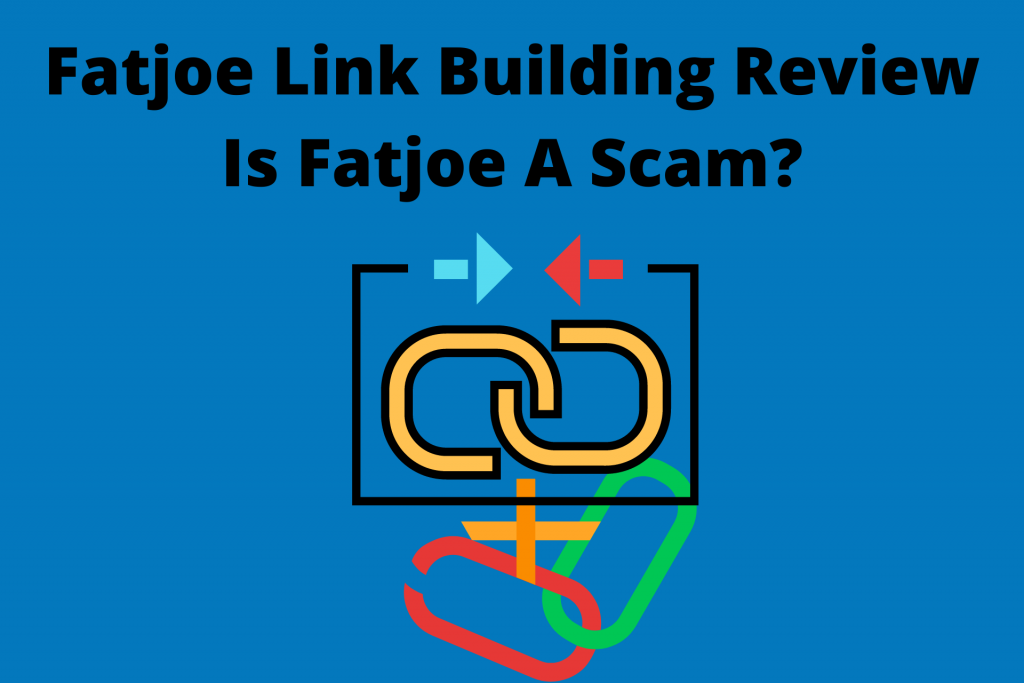 I've spent over £2500+ on blogger outreach links with Fatjoe and I want you to pay close attention to everything I have to say In this detailed Fatjoe review because I would be telling you everything you need to know, both the good and the bad; so that you would be able to rightly decide whether or not to use their service.


I will start the review by walking you through:

Who Fatjoe is
Whether or not Fatjoe is a scam
Some of the links that I bought (I'll show you what the websites the links came from looked like)
Fatjoe's pricing plus my secret tips and tricks to get the best result off of your order
PROS: the things that I like about Fatjoe's blogger outreach service
CONS: the things I didn't like
Final thought


Who Is FatJoe?
I'm actually going to give you a review of the platform FatJoe.com and if you guys have never heard of Fat Joe, they are basically known to offer link-building services for SEO agencies, SEO consultants and essentially, everything is done for you.

The idea is that instead of you to go out there and actually do a whole ton of outreach; you know, sitting there and sending emails to all these bloggers or different niche directories in your particular niche to try to get backlinks and guest posts, they actually automate all this for you.


Now the best part of this review that I'm gonna be sharing with you, is not only have I ordered from the service, I've also gotten massive positive results.


Is Fat Joe a scam?
Seriously, that's a major question, and I get it. If you're looking at Fat Joe for the first time, or maybe even the 10th time, you may be considering; is this a scam? There are a lot of people out there who claim to do some of the stuff that Fat Joe does— not the rapper FatJoe, I'm talking about FatJoe.com.


What do they know about writing and link-building, and all that type of stuff?


We're going to look at Fat Joe which helps you with two sides of your SEO and several different pieces of the keys to traffic., and if you are a business owner and you're looking to drive more traffic to your website plus you want to do it organically, then you are in the right place.


There are three keys to traffic. The first one is understanding your audience. Fat Joe doesn't really help you with this one, but that's okay because that's on you to do.


The second one is creating content for that audience. Fat Joe definitely can help you with this one. And I'm going to show you how today. And then, the third is your SEO and specifically your On-page and your link-building(which will help you with your off-page SEO).

It sounds too good to be true? Yeah, it might, but let's dive in anyway.


When you go to fatjoe.com, you will find a lot of services they offer like the one in the image below. But I would be focusing more on the blogger outreach and Niche edits services.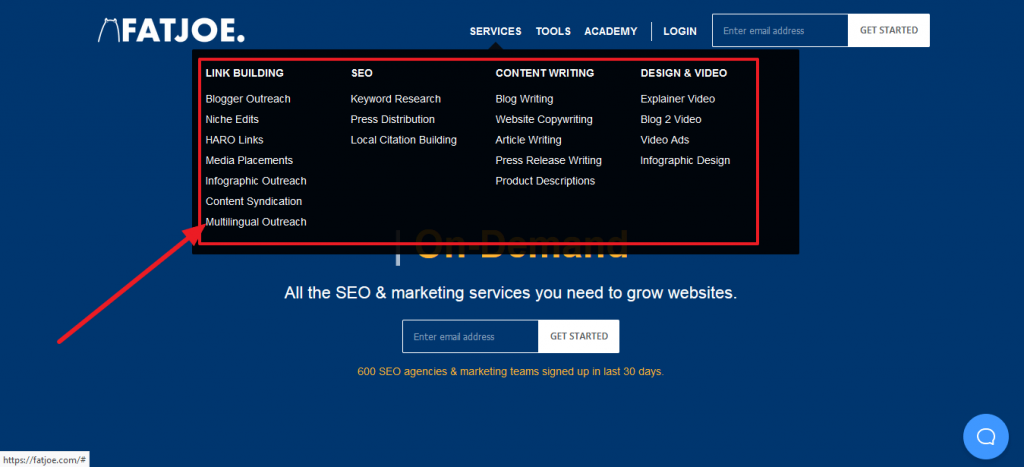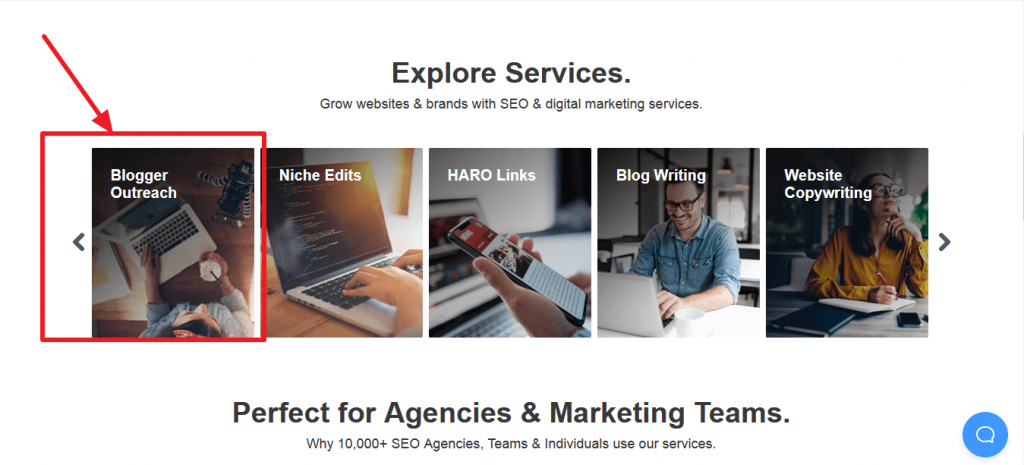 What The Heck Is Blogger Outreach?
Blogger Outreach basically is link-building. The rules of link-building state, "You cannot pay someone to publish your link on their website."


According to Google, that's against their policy and they usually frown at that.


They're not happy when you try to purchase backlinks, so you cannot pay someone to put your link on their website.


The good news, however, is that you can pay someone to write up a blog article and include you in that blog article. By including you, they'll put a link to your website in that blog article. That's actually legal and that's perfectly fine.


So let's look at some of the links I purchased from Fatjoe.com. View them in the image below.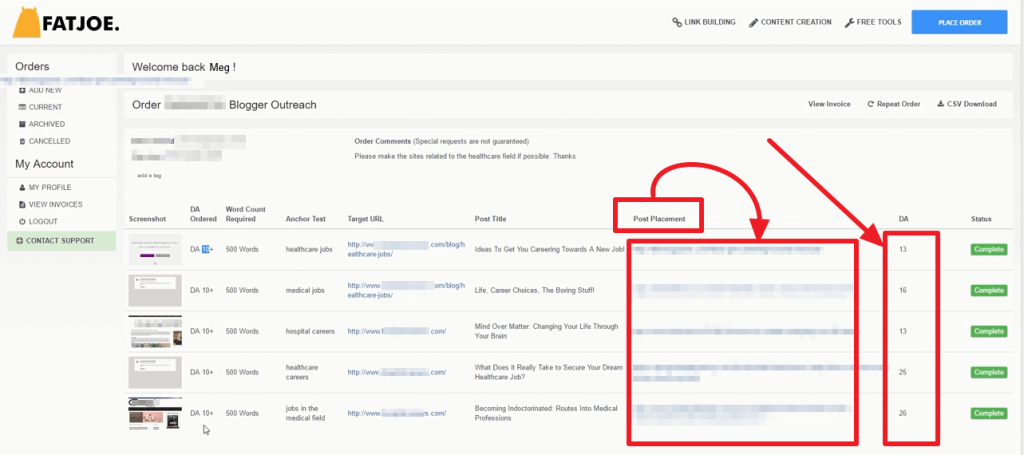 Though the links are blurred out for personal reasons, but you can tell their qualities from the domain authority column.


The post-placement column contains the websites from which I got backlinks and to tell you the truth, these sites are genuine and amazing, unlike other services that would end up getting you links from PBN sites which will eventually hurt your SEO.



in case you are wondering what PBN means, PBN stands for private blog network and these are websites created with the sole purpose of building backlinks. These are not genuine websites as they have no content on there. They also do not have social media handles or contact and about me page.

These are just plain websites that can help build backlinks to your site but will hurt your SEO in the long run.


Fatjoe practices white hat SEO and not gray or black hat SEO. The fun part about this is that I got lucky with my orders and I will tell you why in the following paragraph.


I ordered for post outreach service of DA10 from Fatjoe but as you can see from the above screenshot, I got links of great quality than what I ordered.

You want to know if a site linking to your article is genuine? Head on over to the site and check for necessary pages like, About us and contact us. Also make sure to look out for their social media handles.


When you find all of these in place, then you know they are reliable and not just some shitty site created for the sole aim of selling backlinks.


You also want to consider checking the DA manually just to confirm its actual domain authority and you can do this by using moz.com or Ahref. You can view the DA of one of the links I purchased from Fatjoe below, even when my actual order was DA10.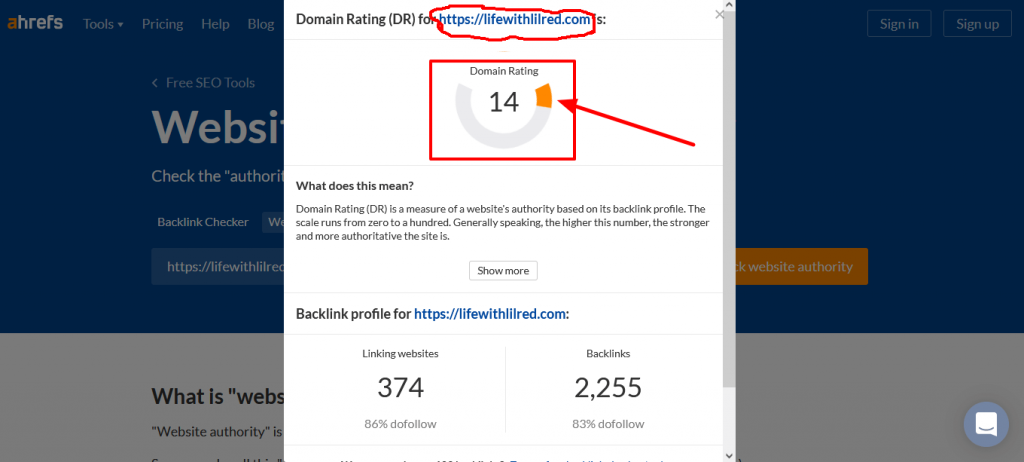 Should incase you find a mistake with your order, you can hit fatjoe up immediately. Below are reviews of customers who have had great satisfaction with Fatjoe's services.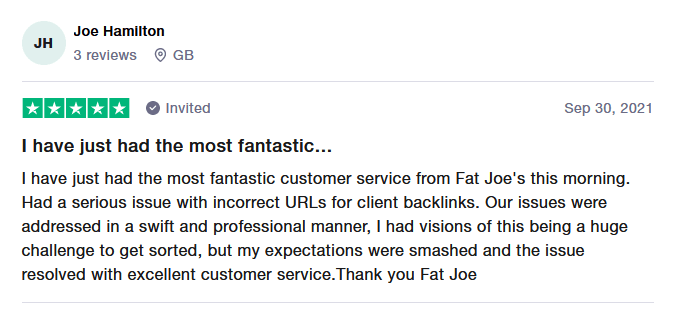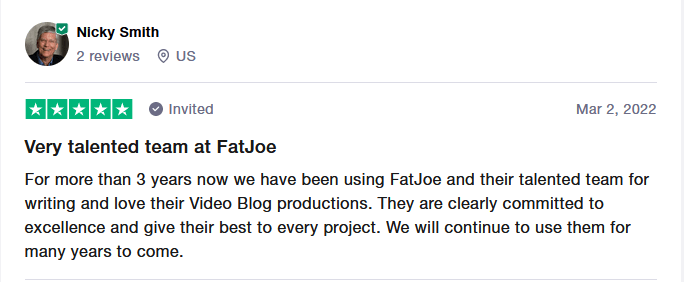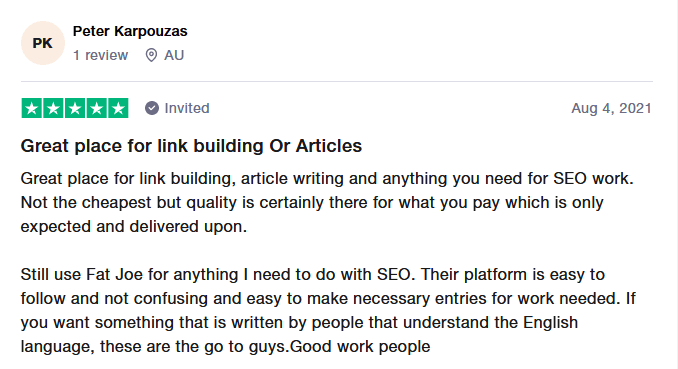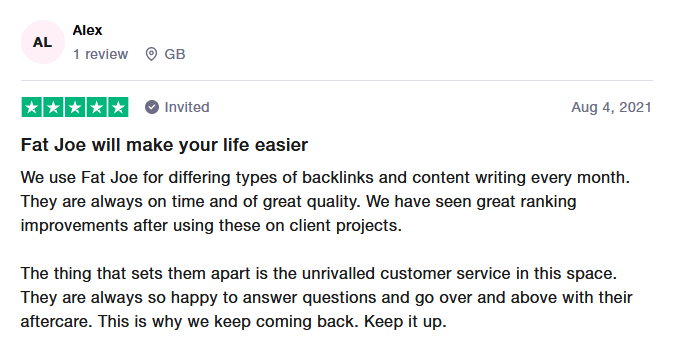 I've been using Fat Joe for a while; So, I'm not reviewing Fat Joe from the perspective of, Ooh, I heard about Fat Joe, Let's go talk about what they do.


I've actually used FatJoe and received benefits, okay? Their stuff works. Now, is it perfect? No!
And I want to be clear with you on this. I want to be extremely, extremely clear with you, especially when you're talking about link-building. You don't know the links that you're going to build that will yield you the most positive result.


Point and fact; there was an article that I did about a year ago for a client and I went out to do some link-building for this article using Fat Joe's service.


I actually had them do some Niche Edits at the time for a client of mine, and after discovering I had some credits left, I had to order one more niche edit.


So, I was able to throw in a niche, that is, a niche edit plan I didn't think was going to be worth a lot. And you'll understand what I mean in just a minute.


I bought three Niche Edits for one article in a particular month. Three months later, two of those Niche Edits that I did, that is, the ones that I went on and thought, "oh yeah, these are going to be the ones that are actually going to drive some traffic to this website." They were driving me 10% of the traffic.


That third Niche Edit that I did, the one that I kind of just threw in there because I had a Fat Joe credit, was driving the most traffic.


That's just the way it is. You just cannot tell which will work better. So, link-building is always a gamble. It doesn't matter who you use or what your method is. It's always a gamble.


Some links will work really well and some won't. So, anybody who is out there promising you that, "oh, I'm going to build your links. And they're definitely going to drive traffic to your website. They're lying. You cannot predict that.


Alright, let's move on.



Fatjoe Pricing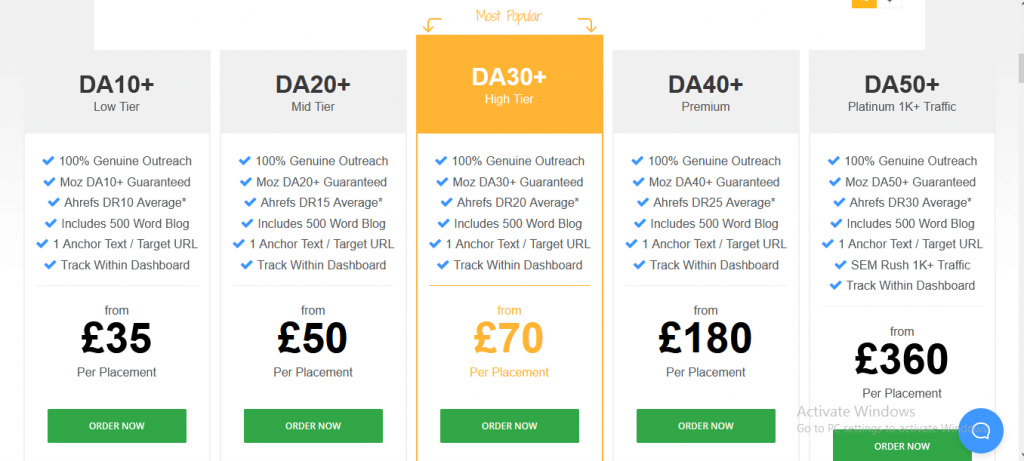 Pricing For DA 10+ Links
It generally costs £35 which is equivalent to $42 at the time of writing this post. You should also be aware that if you purchase up to 25+ links at once, you will receive greater savings, and if you purchase up to 50+ links at once, you will receive even greater discounts.


You should also be aware that these fees will provide you with links in a content of 500 words or more. Therefore, you will need to spend more if you want the guest post articles linking to your website to be longer than 500 words.


It is up to you if you want to increase it to 750 words, 1000 words, or 1500 words. You can decide what your links should be, but I suggest varying them.


For example, if you were to purchase ten distinct backlinks, I would advise you to create five of them with 500 words, two with 1000 words, and perhaps the remaining three with 750 words. Just be sure to change up the word count to prevent Google from starting to suspect your site.


The DA10 blog outreach package consist of:
100% Genuine Outreach
Moz DA10+ Guaranteed
Ahrefs DR10 Average*
Includes 500 Word Blog
1 Anchor Text / Target URL
Track Within Dashboard


Pricing For DA 20+ Links
It's crucial for you to know that the price of the backlinks service increases if you want the guest post articles to have a greater word count. DA 20+ Links normally sell for $60 which is equivalent to £50.


The DA20 blog outreach package consists of:
100% Genuine Outreach
Moz DA20+ Guaranteed
Ahrefs DR15 Average*
Includes 500 Word Blog
1 Anchor Text / Target URL
Track Within Dashboard


Pricing For Links With DA 30+
Naturally, links from websites with DA 30+ cost £70 which is also equivalent to $85, (Also keep in mind that the price increases with the number of words in your guest post articles.)


The DA30 blog outreach package consists of:
100% Genuine Outreach
Moz DA30+ Guaranteed
Ahrefs DR20 Average*
Includes 500 Word Blog
1 Anchor Text / Target URL
Track Within Dashboard


Pricing For DA 40+ Links
The pricing for the DA40 Blog outreach service costs £180 which is also equivalent to $218


The DA40 blog outreach package consists of:
100% Genuine Outreach
Moz DA40+ Guaranteed
Ahrefs DR25 Average*
Includes 500 Word Blog
1 Anchor Text / Target URL
Track Within Dashboard


Pricing For DA 50+ High Traffic Links
These DA 50+ links that come from high-traffic blogs are the most powerful. They'll get you pushing up the ranks because google really loves it when you get links from authority websites. These links cost £360 which is also equivalent to $438 .


While you would be tempted to go for the plan with a high DA, I would advise that you split your budget amongst other plans as you never can tell which would favour you. For example, instead of buying the Da50 Blog outreach plan worth £360, it is more advisable to get DA10, DA 20 and DA30 Plan.


This is so because you never can tell which link will work best
Niche edit is another service you might want to put into consideration. Niche Edit is different from Blogger Outreach; although similar, niche Edit has a particular benefit.


The DA50 blog outreach package consists of:
100% Genuine Outreach
Moz DA50+ Guaranteed
Ahrefs DR30 Average*
Includes 500 Word Blog
1 Anchor Text / Target URL
SEM Rush 1K+ Traffic
Track Within Dashboard
What Are Niche Edit Backlinks?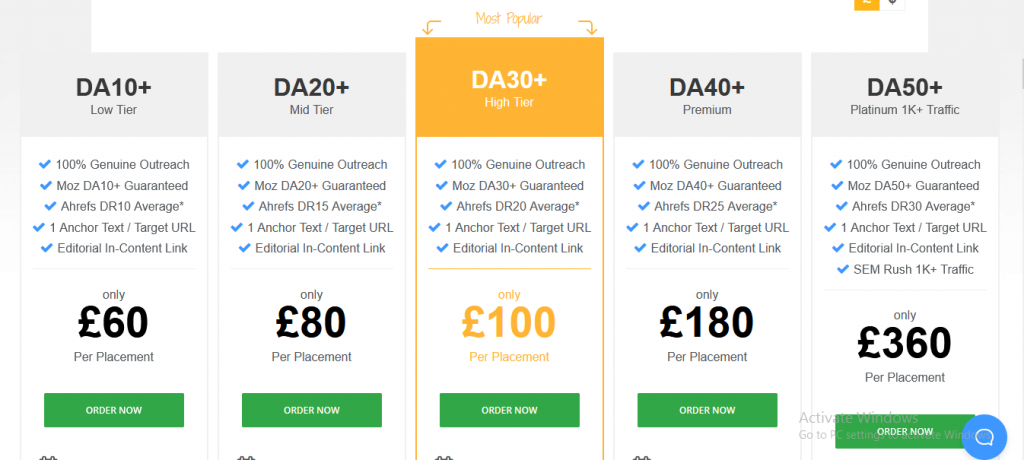 Whatever niche you're in, what Fat Joe does is they go out and find bloggers who are in the same niche as you, and have written an article that has traffic going to it currently; then they ask them to make an edit to their article and include information about you, some service you provide, or a topic you thought on.


Simply put, niche edits mean including you in an already existing article.

The "importance" of a niche edit is that you're getting a backlink from an established page.

The core difference between Niche Edits and Blogger Outreach is that Blogger Outreach is a brand new article while niche edits is an already established article with enough page authority.


So, brand-new articles still have to get indexed, it still has to start getting traffic before it starts sending you traffic.


Whereas, with Niche Edits, you're going after articles that are already written, established, and have traffic. So, that's really, really cool.
I typically buy DA 30 or DA 40. Now, what you want to do is figure out what your domain rating or domain authority is and buy links that have a greater domain authority than yours.


Okay. So that site I did a year ago, I think they were in the mid for their domain authority. So I was buying 30's and 40's for them.


I bought one 30 and one 40 for them thinking, "Okay, those will be good. Those will help it, those will drive some traffic and everything else." I thought those would be great.


The credit I had was either a DA10 or a DA20. I don't remember to be honest right now. It was either DA10 or DA20. I just bought it And I said, yeah, it probably is not going to yield a lot. And it yielded a ton!


So the first thing that I want to share with you is when you're doing link-building, when you're doing Blogger Outreach, and you're looking at the money that you have and the budget that you have to spend on this, you don't have to go all the way up to a DA50+.

You can get a range of different articles at different levels because you don't know which one is going to work.


What I can tell you is you have a better chance of the higher domain authority sites driving more quality traffic to you. However, you just don't know which will perform better.


Okay, So I have Niche Edits from them at all different levels of domain authority. And they've worked.
I've bought DA10's that have worked well, and I've bought DA50's that didn't do well. It's not their fault though, it has to do with the traffic and just your industry okay? It cannot be predicted.


One of the things that I have to stress here is, when you're using a service like Fat Joe for your Blogger Outreach, don't go on there and just plan on buying one thing.


Don't buy just one article. If you have the budget, figure out how you can spread that budget and be able to get the most conversions with your budget.


Don't say "I've got $482, and so I'm just going to buy one DA50."


No! Don't do that! If you've got $482, spread it over these other levels as well. Buy more if you can.


Just in case you want to know what I meant when I said don't buy just one article, whenever you order for a blogger outreach plan, it's the job of fatjoe to write a 500-word article for you as well, where a link to your website will be included naturally.


Okay. So, now, the question that people ask all the time is, " if I choose a DA30 site, do I get to choose which site? I know there are some services out there that will allow you to choose which site you can get your article on. That's not the way Fat Joe works.


Now, I'll be honest with you and tell you, I'm not naming any names right now, but I have used those sites as well and I keep coming back to Fat Joe because somehow, when I choose the site that I want to do Blogger Outreach with, none of those sites ever seem to work as well as I think they should. And I mean, ever!


In a nutshell, when you plan on doing blogger outreach with fatjoe, Take your budget and spread it over as many tiers as you can.


As a matter of fact, I take my budget and spread it over multiple products. So I may buy a Blogger Outreach and two Niche Edits or two Niche Edits and one Blogger Outreach, depending on the budget.


So, those are the two services. I use them all the time. Love 'em. They do a great job for me.

PROS: The Things I Like About FatJoe
1. Their customer care service is unparalleled, which is the first pro tip I'd like to highlight. They conduct live chats, make calls, send emails, and always respond quickly to messages.


2. They offer some of the most affordable whitehat SEO and blogger outreach services available. Their costs are three times lower than that of their competitors.


3. They give the links quickly, in about 10 days, which is amazing, considering the fact that I've used other whitehat SEO outreach companies who took a month or more to respond.


4. I also appreciate the idea of me being able to choose the topic for the guest post they would write and that I could choose the anchor texts the hyperlinks carried.


5. They give a 100% no-questions-asked money-back guarantee if you received something you don't like, which is one of the things I enjoy about them.


Now that I've disclosed my top five favorites about Fatjoe, I will be explaining what I don't like about them.


CONS: Things I Dislike About FatJoe
I don't really like the idea of them having various pricing schemes. The links that you buy from FatJoe differ in content length and website quality, and the more you seek for quality offers, the higher the price per link.


I didn't like the fact that the 2 articles I purchased from them came out a little bit bad, not meeting my expectations. I had to ask for a revision before they came up with articles that were close to what I wanted.



Other Services Of FatJoe You Definitely Should Look At

1. SEO
Keyword Research: Any SEO campaign must start with keyword research since it gives you insight into the online search terms and phrases that your target market is using. To find and prioritize prospects, the method analyzes search volumes, keyword difficulty, and your present ranks.


After creating a list of potential keywords, you can carefully use the terms in your content to increase the likelihood that your pages will be ranked higher. To satisfy the demands of your target audience, you might even find an opportunity to develop entirely new content categories.

Fatjoe can undertake the labor-intensive job for you with their keyword research service, providing a fully filterable report with accurate information from reliable sources and action-based recommendations that are specifically targeted to your niche.



Press Distribution: a press release distribution service, also referred to as a PR distribution service enables you to send press releases to a large audience consisting of journalists, traditional and online media outlets.


Obtaining media coverage, both online and offline, is excellent for increasing brand awareness and can produce a significant number of natural backlinks to your website.


With Fatjoe's PR distribution service, a press release that is suitable for dissemination to the media will be produced on your behalf, it will be distributed through a few high-end industry news channels, and then be manually submitted to other online media sites for consideration.



Local Citation Building: Local citations are many recurrent references to your company's information on websites serving as directories and other online resources.


Consistent NAP citations of your business will help you rank higher in local search results because search engines like Google regard these references as a trust indication.


To make sure that accurate and consistent information about your company can be easily accessed online, Fatjoe personally publish your business information to reputable local business directories as part of their Citation Building service.


Citation management services are very helpful for locally based companies with a physical location that want to boost their local SEO.

2. Link Building(all Levels Of Link Building Package You Can Choose From)
Blogger outreach: The goal of blogger outreach services, also known as influencer marketing or guest posting, is to attract other relevant bloggers in your industry to link to and mention your website.


Blogger Outreach is a well-known link-building tactic that entails contacting blog owners and offering to write free content for them or working together to create content that promotes your company, product, or service while being relevant to their target audience.

You then incorporate a non-promotional backlink to your website inside the material.

Niche Edits: Niche Edits, also known as curated links or contextual links, are links and mentions to your website from already-published blog posts on the internet.


In order to enhance the value of the existing blog post, Fatjoe secures these mentions as editorial links inside the stream of new content they produce.


These mentions of links by search engines serve as authority signals and may boost a website's position in search results.


By employing a specialized editing service, you can gain the advantages of being featured on an existing piece of content that has already established authority over time, as opposed to using a guest posting service like Blogger Outreach where you build links from entirely new content.


Haro Links: A backlink outreach service called HARO gives you the extremely unusual chance to obtain high-quality media coverage and backlinks by connecting journalists with sources.


Haro accepts bloggers and journalists from websites with a Similarweb Ranking of 1 million or fewer. Reporters from some of the most well-known newspapers, such as the New York Times, Reuters, Mashable, Wall Street Journal, Times, Fox News, Chicago Tribune, etc, are among the 75,000 people already on board.


HARO is the ideal link-building approach for obtaining high-quality backlinks because it has so many high-authority websites under its wing.


You definitely might want to give this package a try.

Media Placements: Fatjoe's Media Placements service was created to help you obtain high authority backlinks and mentions from reputable media websites with a domain authority of at least 50+ over the years.


They've established contacts with a select group of people, including some of the biggest media websites in the world, enabling them to ensure premium placements.


With media placements, they've acquired links leading to your website that are naturally interwoven into the flow of a blog article for maximum acceptance, similar to guest posts.


This could take the shape of a quotation or text recommendation, giving the impression that you are a pioneer in your field or specialized area.


Infographic outreach:  Finding and engaging with notable bloggers in order to establish links is the process of infographic outreach, also known as infographic submission, which is very similar to blogger outreach (guest posting).

In order to achieve trustworthy link mentions and exposure, your infographic gets shared as opposed to a blog post.


Brands and digital marketing firms frequently utilize infographic outreach to persuade influential bloggers to share an infographic with their target audience.


A great infographic with insightful content can be very shareable and frequently generate more natural organic backlinks.


Content Syndication: The technique of taking pre-existing quality content, such as a blog post or link placement, and republishing it on other pertinent media platforms and news websites is known as content syndication, which is sometimes referred to as content dissemination.


Publications frequently use syndicated material because it allows them to swiftly deliver new information to their intended audience.


Content syndication can be of incredible advantage to your clients as a link-building strategy because each time their blog content is published on another website, the original source is credited with a link or a canonical tag, strengthening your backlink profile and potentially boosting your search engine ranking.


Due to the larger audience that a content syndication network provides, syndicated material can also increase lead generation and deliver relevant visitors to your website.


Multilingual Outreach: With the help of Fatjoe's Multilingual Link Building Service, you may obtain high-quality links and mentions for your website from bloggers in the country you're aiming for.


They obtain these mentions as editorial links from the content of a blog post that is placed in an objective, non-promotional manner.


Although they customize the text to your selected language, the process is quite similar to Blogger Outreach (guest posting).


Multilingual outreach is essential for a global SEO campaign since mentions and links are viewed by search engines as signals of authority, which raises a website's position in the SERPs.



BELOW ARE OTHER SERVICES OF FATJOE THAT IS SELF EXPLANATORY
4. Design Video
Explainer Video
Blog 2 Video
Video Ads
Infographic Design
Product Description
3. Content Writing
Blog writing
Website copywriting
Article writing
Press release writing

Final Thoughts
So guys, that is all there is about fatjoe review. If after reading this you feel like purchasing one or more of their services, kindly do so using this link.