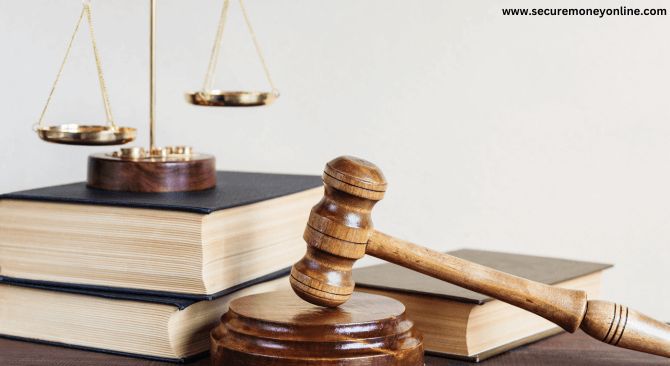 In today's post, I would be walking you through everything you need to know about LegalShield, whether or not you should purchase their service plan, and so on.
I will start the review by walking you through …
1. What LegalShield is
2. Whether or not LegalShield is legit and if it's in any way a scam
3. Pricing
4. Pros and cons
5. How to make extra bucks with LegalShield (LegalShield business opportunity)
6. Final thoughts
Disclaimer:
Please note, I am not a member or an affiliate of Legal Shield. This review has been researched with information and/or testimonials that are available online in the public domain. Any recommendations and/or conclusions are strictly opinions and may not apply to, or agree with, all persons or situations.



Of course, it's wise to do thorough research before embarking on or making a decision that could affect you financially, mentally, and whatnot. If you are reading this post, it means you are having doubts about the product, or you probably just want to make sure you are getting into the right business. Not sure why I included business? Continue reading.


I know you must have heard or seen mixed reviews about LegalShield and just wanted to be sure that what you've seen or heard is correct. No worries, as I would be disclosing all you need to know about LegalShield in this post.

What is PPLSI LegalShield?
I think the right question should be what is PPLSI? There is a huge difference between LegalShield and PPLSI which we would be discussing later in this post. You should not in any way confuse PPLSI for LegalShield.


In the year 1972, what we now know as LegalShield was popularly known to be a sportsman's club before prepaid legal services went ahead and bought it in 1976.


MidOcean Partners went ahead to acquire Prepaid Legal in 2011, and in September of the same year, they gave it the name LegalShield.

PPLSI is currently housing two consumer products which are LegalShield and IDShield


What Is LegalShield?
LegalShield is a multi-level marketing consumer product under the PPLSI company that provides affordable legal services to individuals, families, and small businesses. LegalShield was founded in 1972 by Harland Stonecipher and is headquartered in Ada, Oklahoma.

LegalShield offers a membership-based service that gives its members access to a network of experienced attorneys and legal professionals who can provide advice and representation on a wide range of legal issues.


Members pay a monthly fee for access to these services, which can include consultations with attorneys, legal document review, and even representation in court.


Though for them to be able to represent you in court, the monthly or yearly plan does not count as you would have to pay the normal fee as proposed to you by the firm; but the good news is, you would be getting a 25% discount, which is not that bad.

LegalShield's legal services cover a broad range of areas, including family law, estate planning, real estate, consumer protection, and more. Members can also access legal services for business-related matters, such as contract review and debt collection.


What Is IDShield?
IDShield is a subscription-based identity theft protection service that provides extensive monitoring and protection services in order to help protect your personal information and stop identity theft.

The service provides continuous monitoring of your personal and financial information, including your credit report, social security number, and bank account numbers.


If any suspicious activity is detected, IDShield will alert you immediately so that you can take action to protect yourself.


The service also provides 24/7 access to a team of licensed private investigators who can help you resolve any identity theft issues. In short, IDShield is designed to provide peace of mind and protection against the devastating effects of identity theft.


Difference Between PPLSI, LegalShield, and ID shield
PPLSI is actually the parent company of both LegalShield and IDShield. According to the CEO Jeff Bell, he disclosed that PPLSI has always been the name of the company while IDShield and LegalShield are known to be the consumer brands.
Let's bring it down to popular companies we all know. Take Google for example, Their parent company is known as Google, and under that same company, they have popular products like google drive, google chrome, google meet, etc.


Another popular company is META which was formally called Facebook. Under Meta, we now have Facebook, Instagram, WhatsApp e.t.c


Is LegalShield Legit Or a Scam?
Although LegalShield is a multi-level marketing product, but it is not in any way a scam. LegalShield is a legitimate company that provides legal services to its members through a network of experienced attorneys.


The company has been in operation for over 50 years and has over 1.8 million members in the United States and Canada.


LegalShield's services are provided by licensed attorneys who are experienced in various legal areas such as family law, estate planning, and business law. Members have access to these legal services through a mobile app or by calling a 24/7 legal hotline.


LegalShield's pre-paid legal service model is also legitimate and can be beneficial for individuals or small businesses who may not have the financial means to hire an attorney for every legal issue they encounter.
Members pay a monthly fee, and in return, they have access to a range of legal services without having to pay high hourly rates that are typically charged by lawyers.


However, as with any company, it is important to do your research and consider factors such as the cost, scope of services, and quality of service before signing up for LegalShield. Additionally, you may want to read customer reviews and reach out to current or former members to get their insights and experiences.


To sum this up, you are actually here to get all the answers to your questions right? Let's dive right in.

Below are some reviews from LegalShield users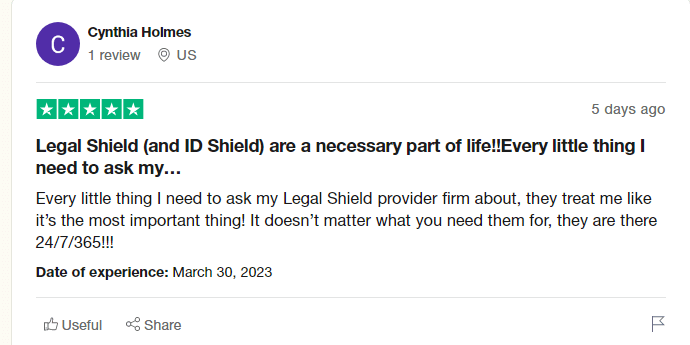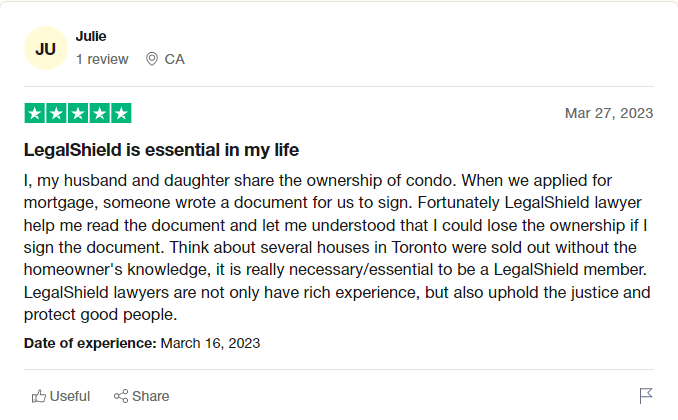 How Does Legal Shield Work?
LegalShield is a legal services company that provides affordable legal assistance and access to legal representation for its members. Here's how it works:

Membership: To access LegalShield's legal services, you need to become a member by paying a monthly or annual fee.


Legal Services: As a member, you can access a variety of legal services, such as legal consultations, document review, and attorney representation. LegalShield offers coverage for different legal issues, including family law, real estate, and business law.


Legal Network: LegalShield has a network of law firms and attorneys who provide legal services to its members. When you need legal assistance, you can contact LegalShield, and they will connect you with a qualified attorney in their network.


Legal Plan: LegalShield offers different legal plans with varying levels of coverage and benefits. You can choose the plan that best suits your needs and budget.


Cost: The cost of LegalShield's legal services varies depending on the plan you choose. The fees are generally more affordable than traditional legal services, and you can cancel your membership at any time.


Overall, LegalShield offers an affordable and convenient way to access legal services and representation. If you're interested in becoming a member, you can visit their website to learn more about their plans and services.


Is Legal Shield A Pyramid Scheme?
In practice, however, if you're recruiting people, and those people are recruiting people, and so on… you will end up with a pyramid of people in which money flows up.

The main thing that differentiates a legal pyramid from an illegal one, is that the legal one sells real products and services (which Legal Shield does).

So, according to the law… Legal Shield is not a pyramid scheme. Your personal definition of a pyramid scheme may differ, but to call this a scam pyramid, or a scheme, would be false.
Legal Shield is legit.


LegalShield Pricing
LegalShield offers various legal service plans with different pricing options. The cost of the plan depends on factors such as the coverage level and whether the plan is for an individual/family, a small business, or starting up a business.


As at the time of writing this post, the starting price for an individual/family LegalShield monthly plan is $29.95 per month, while its annual plan is $24.95 per month.


They also have the small business plan which costs $49+ while the start a business plan costs $149+

It is important to note that these prices are subject to change, and there may be additional fees for certain legal services. To get accurate and up-to-date pricing information, you can visit the LegalShield website or contact their customer service directly.


Legalshield Pros And Cons
There is easy access to lawyers if you have a plan.
Their service is very affordable
Your plan also covers your family members at no extra cost to you
You don't need to know exactly what you need to get help.
It makes it easy to launch a business.
They provide law firms with experienced lawyers
They represent you in court for 25% off their lawyer's standard hourly rate
You can earn as you go


Here are some cons of using LegalShield:
You have to pay a monthly fee to use any service.
There aren't many associated law firms, so it might be hard to find one in your area.
You don't get to choose your attorney.
Who Can Be Part Of This Business Model?
Sadly, this opportunity is only open or available to those in the United States and Canada.
Secondly, if you are someone who's looking to have an attorney at a very affordable fee, then this offer is for you.
The fun part is, it doesn't matter how many children or family members you have, so long as you purchase the individual and family package, every member of your family can have access to your account at no extra cost to you.


Legalshield Business Opportunity
How to make extra bucks with LegalShield
There are several ways to make extra money as a LegalShield associate:
1. Sell LegalShield Memberships: The most straightforward way to make extra money with LegalShield is by selling memberships to individuals and businesses. You can earn commissions for every membership you sell, and the more memberships you sell, the more money you can make.


2. Recruit Other Associates: As a LegalShield associate, you can earn money by recruiting others to join the company. When someone you recruit makes a sale, you can earn a commission on their sales.


3. Attend Training and Development Programs: LegalShield provides training and development programs to help associates build their businesses. By attending these programs and learning new skills, you can improve your sales and recruitment abilities, which can lead to more money in commissions.


4. Participate in Incentive Programs: LegalShield offers various incentive programs to motivate associates to achieve their goals. By participating in these programs, you can earn additional bonuses and rewards.


5. Utilize Social Media: Social media can be a powerful tool for generating leads and building your business. As a LegalShield associate, you can leverage social media platforms to connect with potential customers and recruit new associates.


Overall, the key to making extra money with LegalShield is to stay motivated, work hard, and continuously improve your sales and recruitment skills. By taking advantage of the resources and opportunities provided by LegalShield, you can build a successful and profitable business.


Final Thoughts
There are a whole lot of reasons why you should consider LegalShield. Isn't it amazing that even an average man can now afford to pay legal fees? Isn't it great that you can now fight for your right without you having to go through the hassle to acquire an attorney at a very crazy rate?


Well, LegalShield has saved a lot of people and will continue doing that not to even mention the fact that you can earn money as you go. Though not as easy as it sounds, as you would be needing a whole network of people for you to be able to benefit from this side of the product.


If you've participated in or worked with a multi-level marketing company before, you would know it's not as rosy as it sounds.


For you to be able to succeed in such a company, you definitely would have to be someone that has a range of networks . When I say network, I mean knowing and being friends with a lot of people.


Remember that in every MLM, the more you introduce people into the business, the higher your chances of becoming filthy rich, and the more the people you introduced into the business invite more people, the higher you'll go.


It's all up to you to choose whether or not to be part of this business Model. As much as we have people failing in this business, we also have tons of people benefiting from this business. Life can actually be so hard that you might actually think of giving up sometimes.


If you are considering going into this business, odds are, you are interested in making more money and just want to use this as a side hustle.

If that is the case, How about you consider going into freelance writing business? If you have great writing skills, you definitely can convert your knowledge to money.


There are a whole lot of freelance websites you can sell your skills on, specifically websites like Fiverr, Upwork, or PeoplePerHour.


Frequently Asked Questions
Is LegalShield Worth It?
Yes, it is totally worth it as it does not just create room for the common or average person to be able to afford an attorney, it also restores confidence and gives you the will and more reason to fight for your right.
It's no news that acquiring a lawyer for a case or even getting a lawyer to look at your document and all that stuff costs almost a fortune. LegalShield is just like a lifesaver.


Will Legalshield Represent You In Court?
Yes, LegalShield will represent you in court but they have a separate fee you'll have to pay for them to be able to appear in court. The good news is, they offer a 25% discount for this type of service.
What Is The Difference Between Legalshield And LegalZoom
LegalShield and LegalZoom are two companies that provide legal services, but they differ in the type of services they offer and how they provide them.


LegalShield is a legal service plan provider that offers its members access to a network of attorneys for legal advice and representation.


Members pay a monthly fee for the service, and the attorneys in the network provide legal services to members on a variety of legal matters, including family law, real estate, and traffic violations.


LegalZoom, on the other hand, is an online legal document service provider that offers a range of legal documents for individuals and small businesses.



These documents include wills, trademarks, and business formation documents. LegalZoom also provides legal advice from attorneys through their prepaid legal services plans, which work similarly to LegalShield's plans.


In short, The most significant difference between the two services is how you pay for them. On LegalZoom, you pay a one-time fee for the actual service you need. While for LegalShield, you pay a monthly fee and gain access to specific services.


Both services offer legal help for individuals and businesses, but the way you access it is a little different. On LegalZoom, you pay a flat fee to do specific business tasks. On LegalShield, you pay a different monthly rate based on your business's number of employees.

The biggest difference is knowing what you need is essential for one but not the other. LegalZoom is great if you know exactly what you need and don't need a lot of help from lawyers. However, if you aren't sure what exactly you need, you can get a plan from LegalShield and have easy access to lawyers for questions.


In summary, LegalShield is a legal service plan provider that gives members access to a network of attorneys for legal advice and representation, while LegalZoom is an online legal document service provider that offers a range of legal documents for individuals and small businesses, with the option to also access legal advice from attorneys through prepaid legal service plans.


Is legal shield and ID shield the same company?
Legal shield and Id shield are two different consumer products owned by the same company called PPLSI


Is Legalshield A Good Company To Work For?
Of course, it is


Is prepaid legal still in business?
Prepaid Legal Services, Inc. changed its name to LegalShield in 2011 and is still in business. However, the parent name of this company is now PPLSI, while legal shield and IDShield are consumer products under PPLSI.