You won't believe it guys! I spent over $3000+ on Fiverr Just for me to be able to give you guys this super honest review.


Are you looking to build the SEO of your website and you've somehow considered getting someone on Fiverr to get the job done for you?


No worries, as I have literally ordered a lot of these SEO services on there and would be giving a very detailed honest review so that by the end of this post, you would be on your way to making the best decision for your business or hobby website; whichever one you are into.


In today's post, I will be walking you through:
My experiences of having to hire SEO Experts on fiverr.
Top secrets I discovered: Is fiverr a scam?
Pricing of having to hire an SEO specialist on fiverr
Pros: The things I like about hiring an SEO specialist on fiverr
Cons: things I dislike about hiring an SEO specialist on fiverr
Final Thoughts


My Experiences Of Having To Hire SEO Experts On Fiverr
So, in today's post, we're going to be reviewing all of the backlinks that I've gotten back from fiverr.


If you know what SEO means, you definitely would know that backlinks play an important role in your SEO journey or website.

I ordered about a hundred different gigs on fiverr and what I got back is kind of surprising.

To be very honest with you, it sounds like a really dumb idea. It sounds like a really stupid idea, but the reality of things is, you've probably thought about purchasing these backlinks on fiverr at one time because you wanted to increase your website's domain authority or you wanted to increase your website's actual rankings.


So, what I did is, I reviewed all of the deliveries that I've gotten back. But first, I wanted to show you what I'm going to be doing to quality check some of these backlinks and what you need to be doing to quality check the backlinks that you're getting from potential vendors plus how to actually go through that process.


Probably, the first thing you want to do, is you want to login to a tool called majestic.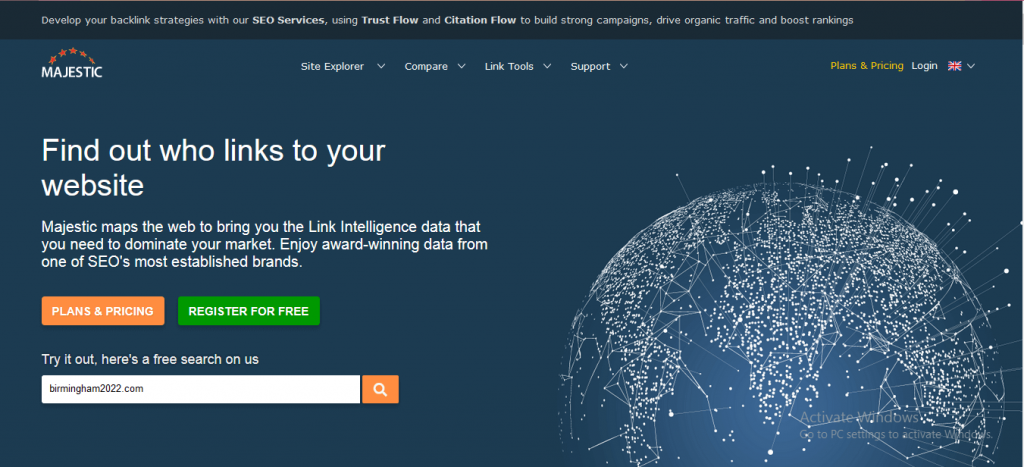 This tool is really nice, because what it allows you to do is actually take a look at backlink quality, for example:

If I put a random agency website's name inside the search bar, e.g develomark.com, you're going to see that the website generally has clean backlinks which means the trust flow being a 35 and a citation flow being a 42, means that the amount of backlinks coming to the website often balances off because of the quality of the backlinks.


Trust flow is usually indicated as your link quality, and citation flow is your volume. You can view the image below to understand better.


So, you never really want these two to be completely different. You never want your trust flow to be low and your citation flow to be high because that tells you the website is getting just way too many links at once.

Now, similarly; one of the things that I look inside of majestic tool when I'm doing some of this backlink stuff is, I look at the topical trust flow.



For develomark, they are definitely in the business to business category; so it does make sense that they are getting most of their links from business types of websites.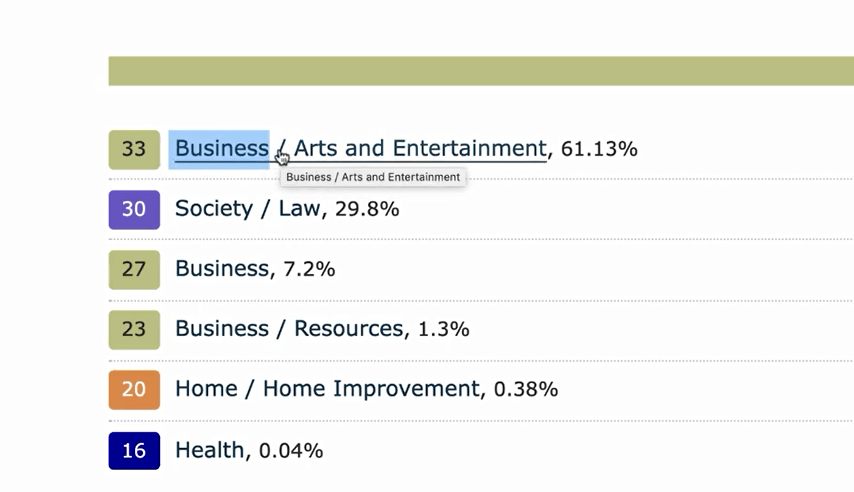 If I were doing something and their category was completely misaligned; like, if it said all of their links are about space, then that wouldn't really make sense with their company. That's often the first signal that you can find about a bad backlink.
Similarly, I like to look at something called the actual anchor text, and this simply means how people are referencing your website on other websites.



So when I look at these fiverr backlinks, I really need to make sure that I'm following this process to ensure that they are not spammy backlinks that are coming through to my website.


For example: from the above image, you can see that the top 10 anchor text generally looks like it is clean and these are natural and relevant since develomark put their logo at the bottom of a lot of client websites that they work on.


Generally speaking, they are going to get a lot of natural backlinks that way and that ultimately doesn't increase their rankings much.


It's more of just a kind of backlink that's there and it really is not contextual, It's more so for design, but yes, you can see that the anchor text of their domain looks good.


Top Secrets I Discovered: Is Fiverr A Scam?
When I was reviewing these orders, I found out a lot of interesting things that you're going to want to hear.


The first one is, the title that you read on fiverr, is usually not true.


You're usually just not buying what the seller is selling you. Instead, they're selling you something that takes them very little time.
They can write one article, and it gets submitted to all these different types of directory-type sites; which some SEO'S on youtube call foundational links.


Arguably, you don't need these foundational links to rank on google. It is a very big misconception and sellers on fiverr are making a fortune doing it because you're buying into it and so am I right? I bought the ones in the image below just recently and a lot more too.



Review Of The First Fiverr Backlink I Ordered
So, this seller as you can see in the image below, is saying: "hello please check backlink excel file…"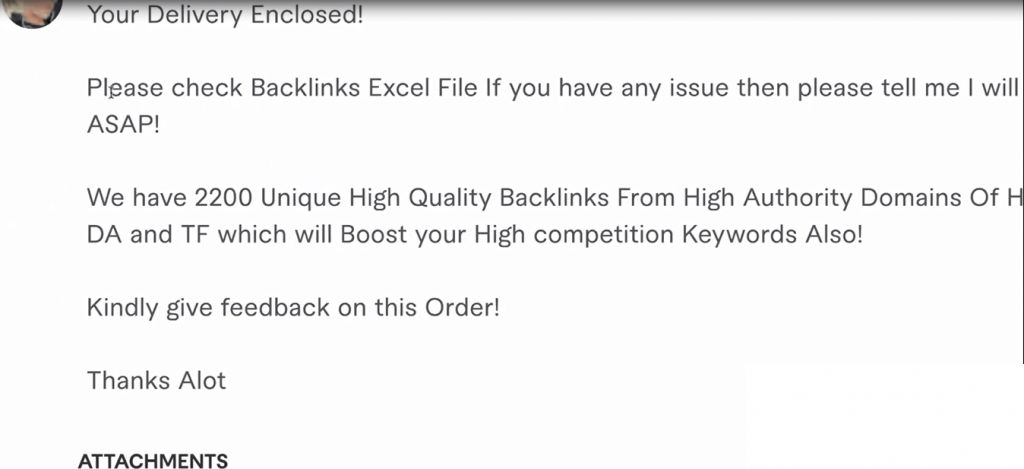 And he has 2200 high-quality backlinks from high authority domains of high DR, DA and TF, which will boost your high competition keywords also.


Guys, don't get fooled here. High DA and DR are basically the same exact thing. The only difference between DA and DR is the two platforms; moz and semrush that report on these types of things differently.


Those are the ones that really have named those for their platform.


These SEO sellers are going to use a lot of fancy words to try to get you to buy things; to manipulate you into buying some of the things that you've read online that have been important to your rankings.


So, let's take a look at what we actually got delivered here. When I take a look at what this seller has given me, they've given me something that looks like what's in the image below.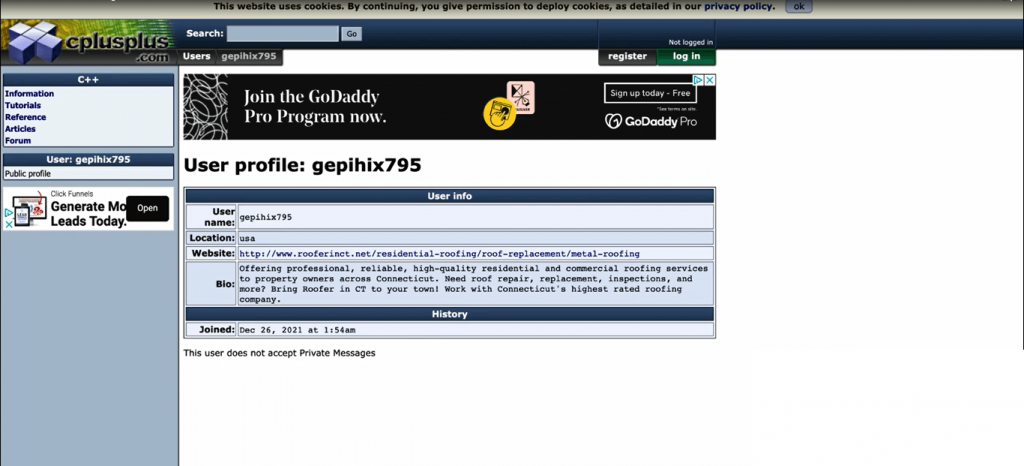 And basically, what this is, is it's a user-generated profile on a website called cplusplus.com.

Now, many of you may argue that some of these foundational links are gonna give google a signal that your website exists because it has a contextual backlink.

At the forefront, really, I got what I ordered right?


You can see in the image above that I got a backlink from this site. The website URL is listed there. There's also a description, a username for that business that was created.

These user-generated profiles often do nothing for your SEO rankings and they can actually be bad for your SEO rankings when they're created at scale.


Looking at the topical trust flow of this user URL is not going to help my case because it's in computer software.


So for a roofing business, which is the one that I actually pointed to, getting a link from a computer software-based website is really not gonna be helpful.


That user profile might make sense, but it's really not going to have a ton of SEO impact. So, it's really easy for these vendors to say "we're gonna send you 3 000 backlinks" when in reality, they're just a bunch of spam-user-generated content.


So, let's move on to the next one.
The next vendor decided to use some hugs and kisses inside of his delivery report. So, he said: " here is the delivery report for your order bla bla bla"


Once again, when I look at this order, it's a very similar situation to what I just purchased.
In this event, it looks like they went on some website called "PBase," and created a profile for my experiment website.



You can see that if I actually do search "PBase" inside a tool like majestic, I'm gonna get pretty satisfactory results in terms of the trust flow and the citation flow but that's not really what I'm worried about here.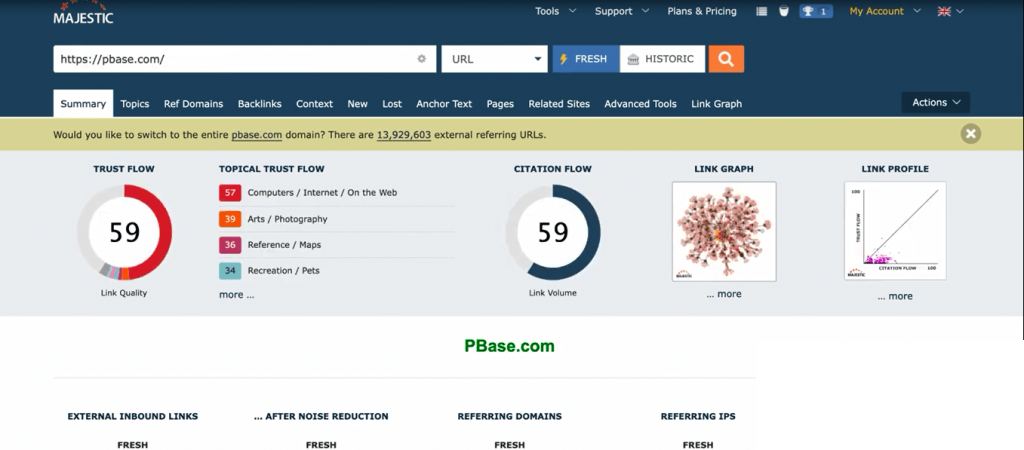 After doing just a little bit of analysis on this link, I discover that 81% of its topical relevance is about "actual computer software" and arguably, not a good backlink for a roofing website(my experiment website) In general.


You can view the above image to understand better.

You should really strive to get backlinks that are topical of relevance to you. That's why when some digital marketing agencies put their logo at the bottom of their client's websites, the backlinks don't have much of an impact because they're all different types of businesses.


Digital marketing Agencies putting their development logo on a roofing website really doesn't make any sense because when it points back to them, it doesn't give them any value.


You've got to get more topical relevant backlinks that come back to your website and if a lot of the sellers on fiverr.com can figure that out, they're gonna get a lot more sales from people like us who are looking to get these backlinks purchased through there.


So, once again, these profiles don't really do much for my experiment website, yes they carry my actual url but I just noticed that the one in the image above is not the URL I provided; so, this seller couldn't even put in the correct url and I would imagine If I were to take a look at their entire report of all of the links that they have submitted, all of the URLS are being sent over to a 404 page.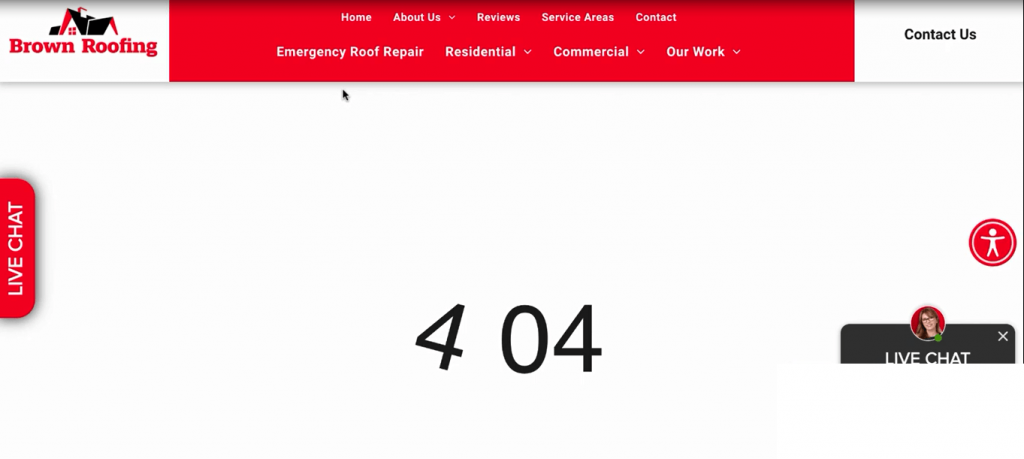 Just so you know as well, in the event that this happens, you're going to want to redirect this URL back to your home page so you don't lose any link flow if there's actual value inside of that particular link. You don't want to lose any link juice.


Once again, this is a seller that put in a 404 link on the website. The user-generated spam wasn't great anyways and so therefore another flop there and just ultimately a complete waste of money.


So, let's move on to the next one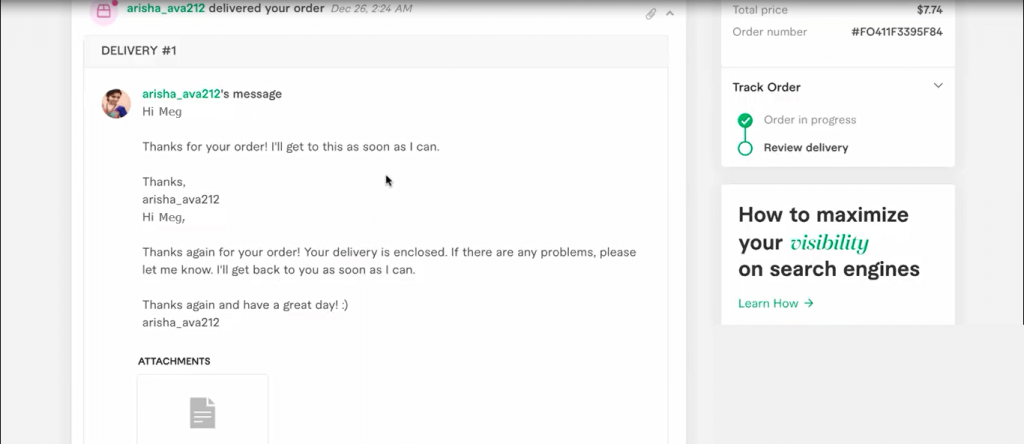 So, the next profile actually went in and submitted their order and this one is a little bit different from the two that I just showed previously. This one actually is a post that looks like what's in the image below.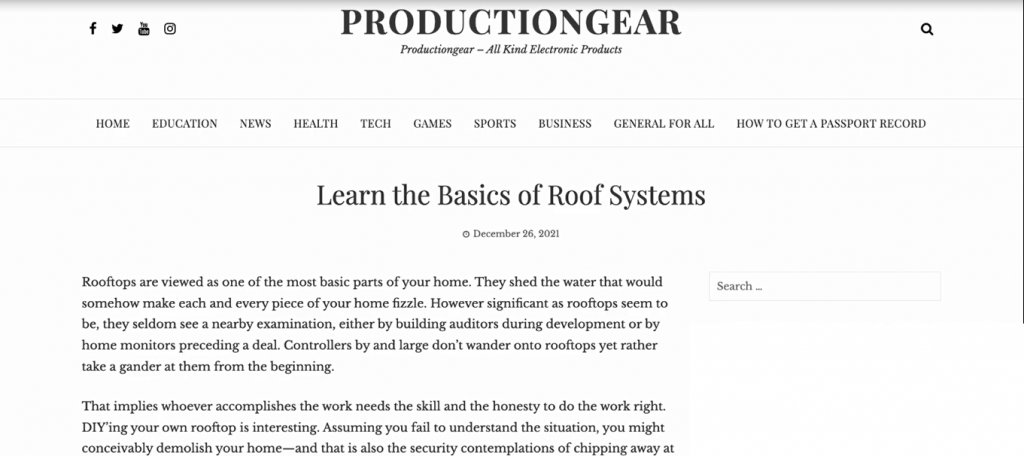 Finally, after three of them, we're actually seeing our first contextual post on a website plus it's not a web 2.0 profile and it actually has an article listed to it.


Now, taking a close look at the copy in the above image, it doesn't look probably like the greatest right?


From the first paragraph, it says "roof tops are viewed as one of the most basic parts of your home"


So, likely, nobody's probably reading this; and direct traffic coming from these blogs going to your website is a really strong google indication feature for rankings.


And the reason for that is because the blog is sending not only the backlink to your website, but actual visitors are flowing through that link, telling google that that is a popular post and your site deserves some of that link juice for it to rank higher on the search results.


Looking at the post in the above image, the seller did successfully put in the link and it actually does go to my experiment website. So I'm kind of happy about that and once again, it's just a very very basic post created on a website called "production gear"


Let's take a look at this website's URL just from a basic standpoint and see if this URL is worth anything.


First thing I'm going to do is to put the URL into the majestic tool; and when I look at the trust flow and citation flow; really, it isn't that bad.



The quality which is at 22 versus 33 is actually quite a good ratio, and looking at the topical trust flow section; of course, I'm not expecting any posts on fiverr to give me a solid topical trust flow cause I know that these sellers are selling links that they have access to.


When I look around for spam, the only thing I found was that the topical trust flow. Looked a little bit weird; but ultimately, it looks like the website has a lot of the video gear stuff and­­­­­­­­­ really hasn't been spammed too much.


So, ultimately, yeah, I think this actually is an okay backlink that's contextual, that goes to my website, especially if you're in the travel vertical or if you're linking to a post about travel just in general; that's also effective.


Page authority is a very real thing. Google doesn't necessarily look at your entire website; they're looking page by page to ensure that there's topical relevance with all the things that you're doing. So, this post actually isn't terrible.


Now let's take a look at its domain rating by popping it into semrush to see if there's any sort of semrush value that we're going to get from this actual post.


So, once again, I'm going to put this post into semrush,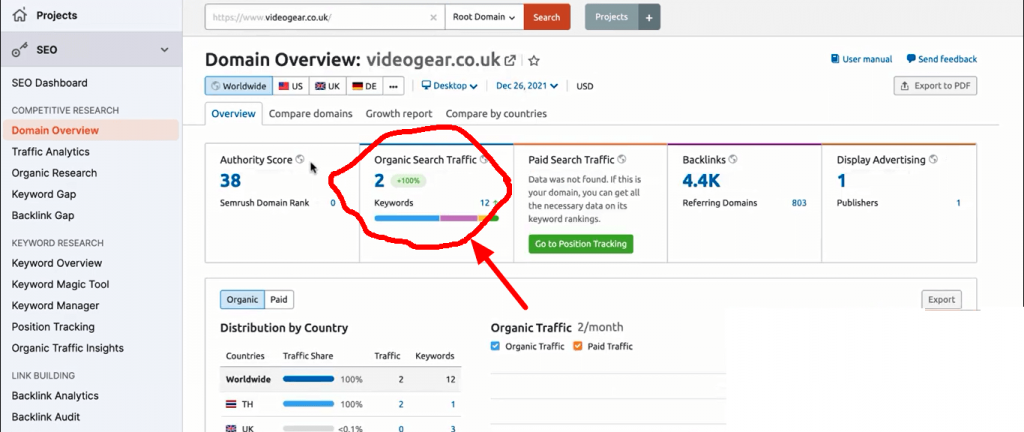 And you can see from the above image that the authority score is 38 out of a 100, but the one massive issue that I see here with this domain is that the website relatively has absolutely no traffic which is not a good sign.
So, basically, you're buying a link on a dead website which can be a complete waste of money.


The links that you're getting, the links that you strive to get, the links that you want your clients getting, should be links from websites that have had traffic to them and currently have traffic.


So with this kind of backlink, my experiment website would be completely dead as well. The topical trust flow looked okay, the citation flow looked okay.


My experiment website is getting a link, but the link is completely dead which basically makes it a private blog network; a PBN, which is not an effective web method of ranking in today's world.


So, let's move on to the next one


The above image contains a link that I got from one of the vendors throughout my purchase as well.
And you can see, it says, "how to build a roof frame." This is the actual post that they inserted the link on. They actually linked out to the correct URL which is very very nice of them, and once again, let's take a look at this URL and just see if this link is worth keeping or if it's even worth buying right?



Well, this site is way better. Way better trust flow, way better citation flow,


Topical trust flow is regional in middle east and that might not be good.
Anytime that it's regional or middle east, it means it's not gonna rank for American keywords because that doesn't really make too much sense unless it's a really high trust flow.



And then, you can see from the above image, that the actual anchor texts are a lot of hair extension.This is probably not the best link to go through to my website but ultimately better than the previous ones we've seen before.

In that sense also, let's take a look at semrush, let's see if this website has any traffic. If it does, then it might actually be a good link to keep but if it doesn't, we probably want to remove it. So, let's take a look.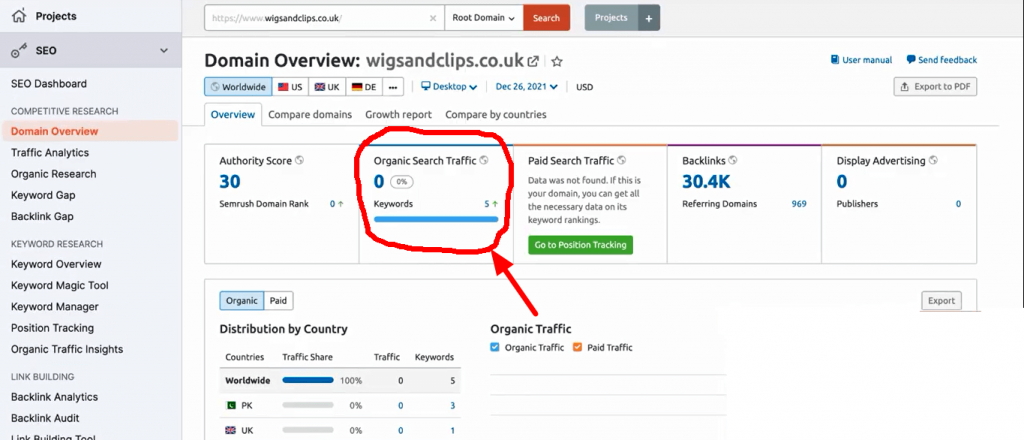 So guys, as expected, it does not have a great score and you can see it in the above image. It has an authority score of 30 and no organic search traffic.


However, nobody is going to that website. That means it's spam; it is a private blog network; that is what you are buying here. You are not buying a website with any traffic okay?


That is really important for you to know because if there's no traffic going to this website, and you're being listed on it, there's no true value being created for the user and there's no true value inside of the search engines; it's all just spam.


Going on to the next one,
HAKDAR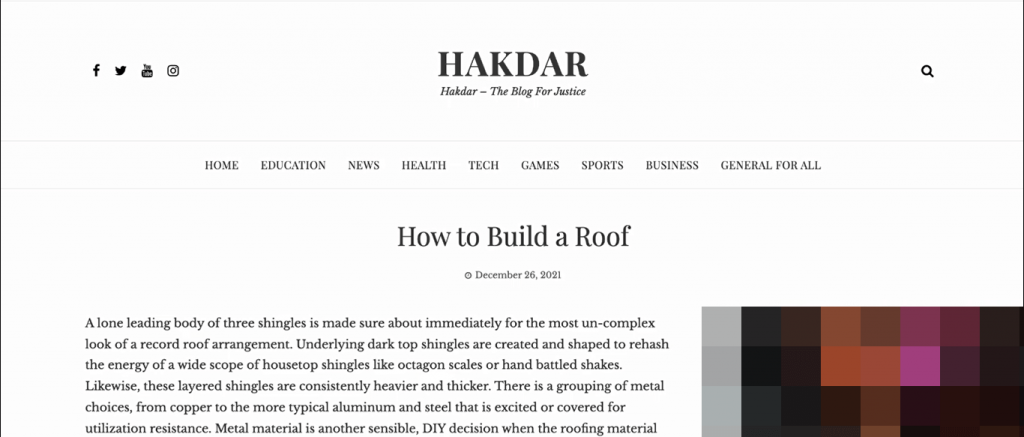 This is a very similar design to the previous one. So, what these sellers are doing is selling private blog networks in form of backlinks.
You are purchasing what will ultimately penalize your websites because these websites have absolutely no value.


So, I take a look and see that they linked out to my website. That's exactly what I told them to do and when we take a closer look at the link's quality, you will discover that we have a similar situation here, where you have a high trust flow and a high citation flow.



And then, when you search in semrush, you're probably going to get the same situation where the website has an authority score but there are no people going to the website.



Just a pro tip as well. Whenever you're looking at these backlinks, look at the keywords that people are typing in to find the website.



So, you can see from the above image that "miss flower mr honey cream" and "how to hang string lights in a barn" are what people are typing in the search engines before getting to this website. In a nutshell, this website's topic or niche is totally off from what we want.
Because of this, I won't be wrong if I called this website a complete private blog network, and I just would not recommend you buy it.

Looking at the next review…



The above image is a post that I got back from another seller that told me they were going to give me high quality DA 70, DA 80 backlinks through some websites.

You can see that this is a telegraph post that links back to the website link that I gave them.

Now, in a beginner's eye, if you are just starting out SEO, you may look at this and say "Meg, I'm gonna do what you just told me. I'm going to search this" And when you do, you are going to see that telegraph has low trust flow and high citation flow which is not a good link here right?



What this means is it's getting a lot of backlinks through various sources on the web but generally, all of the backlinks that it's getting from the web just have worthless domain authority.

Looking at Telegraph as a beginner, you see it has a lot of organic search traffic, which may sound good in theory but in reality, this is called a web 2.0; and web 2.0s generally don't rank your website that well.


It's a really big myth out there that they do the job in ranking but in reality, there's a lot of other ranking factors that you can focus on that are not web 2.0, that are gonna get you some of that result.


Once again, looking at the same thing below:


Judging from the post in the above image which is another post I got a link from, it is certain that a lot of these gigs that you're purchasing on fiverr, have their vendors writing a paragraph or two and then posting it on some syndication software that everybody preaches.

Then that syndication software puts it on hundreds of websites and you can tell that this is true and my hypothesis is true here; because the text on this backlink that they gave me, is the same text on the backlink that they gave me before and you can view it in the previous screenshot before this one that's above.


So, therefore, this seller is just marketing their software that they're using from some company and writing a thing and posting it everywhere for you, and really, with these web2.0, you're just completely wasting your money and it's not getting you any result at the end of the day.


Pricing Of Having To Hire An SEO Expert On Fiverr

The pricing actually differs. One vendor might charge $10 for a service and the other vendor might charge $200. So it all depends on the vendor


Pros: The things I Like About Hiring An SEO Expert On Fiverr
I actually liked nothing about my experience with the so-called SEO experts on fiverr. It was the worst experience ever, but I had to do this to save people like you from the stress of having to walk through the same part.


Cons: Things I Dislike About Hiring An SEO Specialist On Fiverr
Almost all the links were gotten from a PBN site which is really bad for SEO


Syndication software was used to replicate and distribute posts to various web 2.0s which is really bad. No reasonable audience would want to click on a link embedded in some short not-helpful-at-all post.


A lot of supposed SEO experts on Fiverr are not what they claim. They try to sell you one thing and end up delivering another.


They end up destroying your site with some spammy backlinks


All of the supposed websites they gave me backlink from have no traffic at all which is bad for business.


And a lot more…


Final Thoughts
All in all, after carefully going through each and every link that was supposedly a backlink, I would advise that you be cautious.


And if you believe that you do need to get these foundational links, get them the right way. Get them by listing your business on better business bureau.


Get them by listing your business and doing something like local SEO.

Try getting some of these foundational links that are going to really help you rank and have use and utility.


A lot of these things that you guys are doing have no fertility; so, why would google give you any search traffic?

I've already made a post showing you what quality actually looks like.

Yes, it costs a pretty penny to get a quality backlink; but at the end of the day, you need it to be topical, you need it to have quality and you need the site to have actual search traffic so you can rank higher on the search engines.


So, guys, thank you for reading to the end. I hope you get some value out of this. If at all you have any question, make sure to leave them down in the comments and I will attend to them as soon as I can.