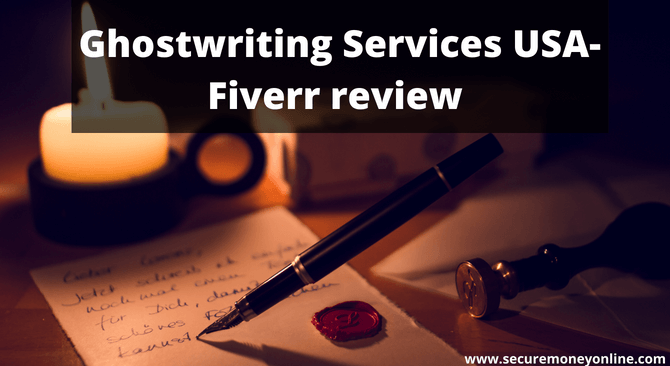 I know a lot of people have dreams of putting their books out there but don't know how.
I know a lot of people have visions, inspirations, experiences, business ideas, and would love to put them in a book.


You probably might have gone through something your entire life and wish to share your experiences with others but unfortunately, you don't know how to strategically put the words together.


Well, if you fall under this category, then you are definitely reading the right post.
In today's post, I would be walking you through:
My experiences of having to hire ghostwriters for my book on fiverr.
Top secrets I discovered: Is fiverr a scam?
Pricing of having to hire a ghostwriter on fiverr
Pros: The things I liked about fiverr
Cons: things I disliked about fiverr
Final Thoughts


If you've had a bad experience with ghostwriters in the past, please calm down, and take a cold glass of water.


This is not your usual kind of review. I'm giving a very honest review right here without leaving out any details. So, grab a pen and a paper as I would be revealing top secrets to you so that by the end of this post, you would be able to make the right decision.


My Experiences Of Having To Hire Ghostwriters For My Book On Fiverr.
Like seriously now, I don't know if you've experienced this before with any ghostwriter anywhere, but do you know there are a lot of writers that give you a plagiarized content in form of original?


Like, I still do not understand why you would hire someone to get a job done and the person will just go ahead and get an already written ebook of the same topic, copy the texts, then use a paraphrasing tool to make it look unique.

And as if that isn't enough, this person goes ahead to perform some amazing changes to the document that would really make it very difficult for any plagiarism checker to detect.


I mean it! No matter how special or good a premium plagiarism checker is, it still would not be able to detect that the document was plagiarised.


Surprised? Who knows, maybe they've been doing the same thing to you time and time again without you ever noticing.


What would you do if you find out you've been publishing plagiarized books on Amazon as yours? Well, you have to keep reading to find out what the trick they've been using is.


Top Secrets I Discovered: Is Fiverr A Scam?
I hired three ghost writers from fiverr to write three different early reader chapter books for me. So, how did they perform? Let's just jump right in and find out!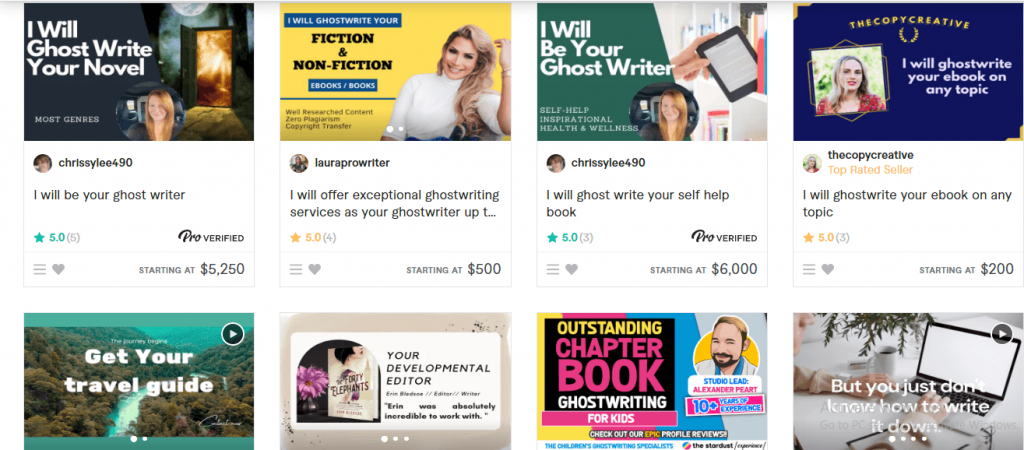 Steps I Took To Know If The Contents Were Plagiarized Or Not
Now, here's how I go about checking the ghostwriter's work. I always run it through a plagiarism tool called quetext.com.

Unfortunately, plagiarists have gotten so good at finding ways to work around these plagiarism checkers. They've found ways to insert hidden characters within a plagiarized document; just so it won't flag that word. Because of this, I also take an additional step.


Step 1: Copying Of The Written Document Into a new word file
I go into the document; I hit control A or command A if you're using a Mac. I then copy everything using control or command C.
I open up a new word file and I paste it into that new file, I then save that file as a dot txt file.


I know that seems like a lot of work but it's actually really quick to do. Just a quick recap: ctrl a, ctrl c to copy, open up a new word document, ctrl v and it's in there, and then save it as a dot txt file.


Then we open up that dot txt file, if you see any odd or special characters within the words, that's a huge red flag that that document may have been plagiarized.


Now, after I've confirmed that the writing isn't plagiarized, then and only then, do I start reading the manuscript.


Now, you may wonder why I do that first. I do that because I don't want to fall in love with a manuscript that is plagiarized.


It doesn't matter if I like it, so long as it's somebody else's work, it will just be a waste of my time to read it. Because of this reason, is it important for me to do the plagiarism checkers first.


Step 2: Reading The Manuscripts
Now, as I'm reading the manuscript, in addition to noting down any changes that I may want, I always ask myself; "did they fulfill the gig? You know, the number of words I've requested, the topic that I gave them, any guidelines.


I want to make sure that whatever elements we've agreed upon for that gig, were met in that document regardless of how great the story might be. With all that said, here's how they performed.

I will start off by saying that all three stories submitted, passed both the plagiarism checks that I do, which was a huge relief. So, I could go and actually read the content.


First up was Chloe writes
Now, her story was the story about aviation. The only direction I gave her was that I wanted an early reader chapter book about aviation with 2500 words.


I chose aviation because I did some research on amazon and found out that the aviation category, especially for the new releases, was a category that I could really compete in without having to run any ads.


That gig ran me fifty dollars with a seven day turn around. So, here's how she performed.
Her story came right in around 2500 words, it was actually like 2503 I think. This matters because you'll see when we get into finding an editor, the editors quote based on word count.


So, if you get an overzealous ghostwriter that gives you 3000 words when you really ask for 2500; that may sound great but you're probably going to end up having to pay more to get those extra words edited.


Now, I received the first draft on the seventh day, so they were right on time which again was amazing. She actually provided the story in two different formats which surprised me.


One was the completed story with chapter headings which is basically what I expected. But then, the other was actually broken out like an actual early chapter book with the page numbers already set up for me.

In addition, she even included a book blurb which was surprising as I had ordered just a $50 gig. So, needless to say, right off the bat, I was highly impressed; but how was the story?


Overall, the story was really good. I did have some minor revisions that I requested. There was one part of the story where it seemed like they jumped from doing one activity straight into another without any real or clear transition.


To be honest, it actually seemed like maybe she had written the story a bit longer than the 2500 words that I asked for.


So she went back and cut out some extra sentences and because of that, it didn't really flow as smoothly as it should have.

But again, I made that request and she delivered the updated draft in three hours.
After those revisions were made, even though I was still alerted about another revision, there actually were no other changes that I wanted so I approved the gig and I gave an honest five-star review.


Love the review so far? Here are the links to the best three ghostwriter vendors I recommended in this post:

1. Angelle R
2. Chloe Writes
3. Krista Watkins


Next up was Angelle R
Her story was a mystery-themed early reader chapter book. Again, 2500 words, and Her cost was $375, and it was a six-day turnaround.


Now, this project was interesting, to say the least. She was very communicative and after about five days into the gig, I received a message from her that her account was being temporarily frozen due to complaints from a few of her clients.


Apparently, she'd run behind on two projects due to some technical issues that she had and both clients reported the situation within the same week.


So, when she had two complaints so close together; as a quality check, they froze the account until they looked into it further.


Now, all that said, none of that affected my gig at all, but she did feel obligated to let me know about the issue, which I liked.

She made sure that I liked where the story was going before she fine-tuned it and sent over a final file.


Now, to be honest, I had some mixed feelings about this. On one hand, I liked that she wanted to make sure everything was going as agreed before she finished, but then, on the other hand, with only one day left, it seemed a bit late for this kind of check-in.


After I read the final draft, I did make a couple more suggestions. One of them was, on a few occasions, she flipped between writing tenses. She flipped between past tense and present tense.


Now, this is common in first draft so, it wasn't such a big deal to me. But I wanted to make sure that I brought up the point so that it could be fixed.


The other issue that I had her tweak was actually an issue that I'd never thought of before and you really want to take into account when you're either hiring a ghostwriter or even if you're writing the story yourself.


Now, the issue I'm referring to is knowing where your target audience is at, and what I mean by that is where are they in the world?


Now, my target audience for this story is in the UK However, my ghostwriter was in the U.S. So why does this matter?


It matters because when she wrote the story, she used words like mom instead of mum, vacation instead of holiday, and closet instead of wardrobe.


Especially for early reader chapter books, using these types of terms can be quite jarring and keep them from really getting immersed into the story like we want them to.


Now, Angelle R made my suggested tweaks, and sent them over to me in a revised version. In about two hours, I approved the gig and gave her an honest four-star review.


Last up was Krista Watkins
Now her instructions were a bit different. For her, I requested she writes a 2500-word early chapter book but I left the topic completely up to her.


Her gig was the most expensive at two hundred dollars, with a seven-day turnaround.
Now, unlike the other two gigs, when I placed this gig with Krista Watkins, I placed my order and it was complete radio silence until the seventh day when she came and submitted the story.


Now, some people may mind having zero communication during a gig. I, on the other hand, loved it.


I'm sure if I needed something or if I wanted to check in I would have gotten a response probably fairly quickly but as busy as I am, I love the fact that I could just set it and forget it.

She didn't need any guidance or hand-holding. Now, some of that might have been because I gave her full creative control over the story so there really wasn't much to chat about.

But what about the story? Well, the truth is, I absolutely love the story. It was a touching story that had a mixture of adventure and fantasy. There was only one problem. The entire story was written in present tense.


Now, there was no flipping back and forth, she was great about staying in tense throughout the entire story. However, I felt the story would just read better in past tense.


Now, I felt a little bad putting in the revision request but after I had a couple colleagues read it over as well, they all agreed that it was good but that it could be great if it was just in past tense so I bit the bullet, putting the request in and Krista agreed to make the change and two hours later, I had a revised version, completely in the past tense.


Now, to be honest, I actually read through it three times to make sure that she didn't miss any tense elements, Nope, everything was spot on. I approved the gig and I left an honest five-star review.


Sincerely speaking, I would have left a 10star if I could, definitely worth the slightly higher price tag.


So what's next? Well, honestly, my plan was to pick one of these stories and hire three editors to edit it but after reading all three stories I really like them all and I think all have amazing potential; so instead, I'm actually going to hire three editors, one for each story.

Now, if you'd like to check out these sellers, I've actually included the links right here.



Pricing Of Having To Hire A Ghostwriter On Fiverr
If you were paying attention to the post, you would notice that every ghostwriter has their price tag. What Mr. A charges for 2500 words might differ from what Mr. B charges for the same word count.


Since I've already briefed you on the best ghostwriters in the market, I will as well state their price tags.


Of course, you already might have seen their price tags as I've mentioned them before, but I will be leaving 3 price tags screenshots of the vendors I mentioned in this post.

Angelle R.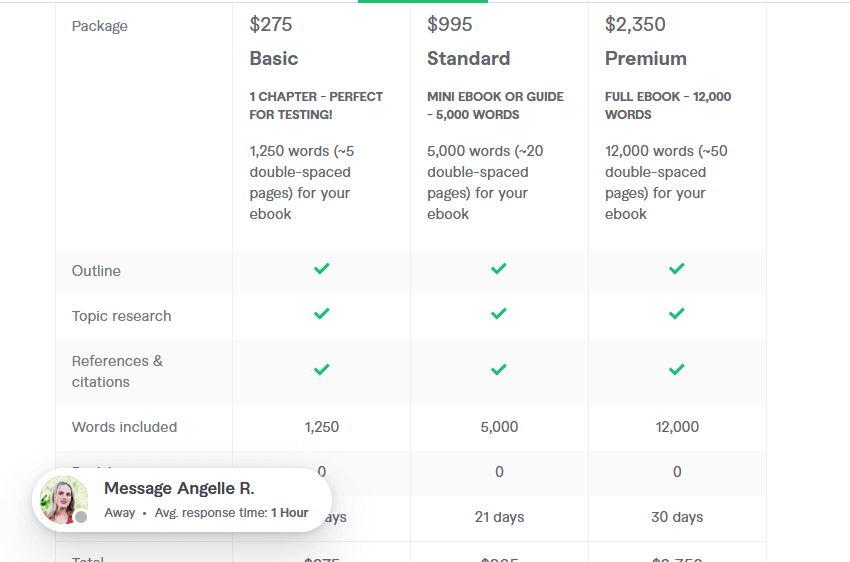 These are the price tags for one of the gigs she Offers. She does a whole lot of stuff so long as it has to do with writing. Be it children's books, fiction, romance novel; you name it. She will get the job done for you. Give her a try!



Chloe Writes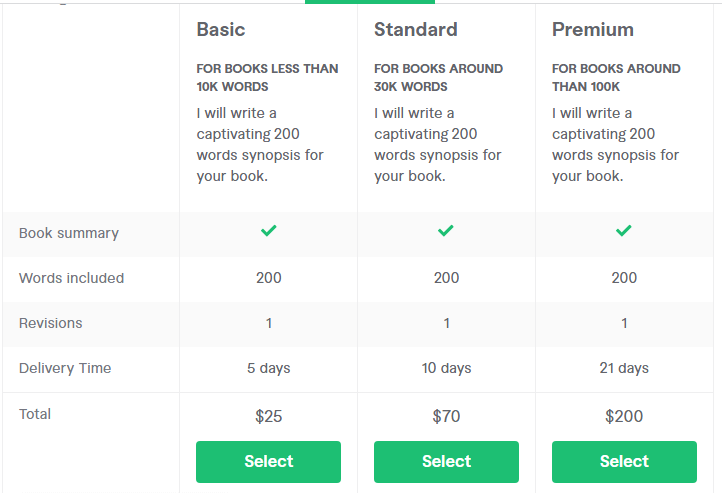 Chloe also has a lot of writing gigs you can choose from. You might want to check her out.



Krista Watkins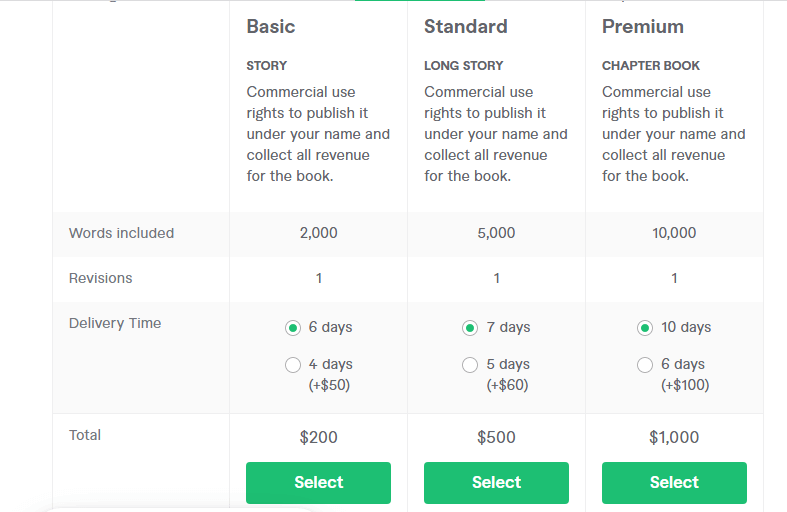 Krista also has a variety of writing gigs to offer. Try feeding your eyes on her dashboard to find the one that bests suits you.
Pros: The Things I Like About Ghostwriters On Fiverr
I like the fact that the writers stick to the game plan, calling and messaging to confirm that they are on track

I love the relationship they maintained

I like the fact that they could go extra miles to write more words than you have ordered. Even if this means you paying extra bucks to editors, it still is so nice of them to be willing to outdo what you expected.

I love the fact that they are able to meet deadlines without coming up with some silly excuses

I love the fact that their contents are 100% unplagiarized

I like the fact that they are able to revise and make corrections to the documents earlier than I expected.

With how neat their job is, you just might even give up the idea of hiring an editor.



Cons: Things I Dislike About Ghostwriters On Fiverr
I didn't like the fact that the word count was more than what I ordered as it meant me spending extra bucks to hire an editor.

I didn't like the fact that I had to make them revise the content, though at some point it was my fault but yeah, it still falls under this category.



Final Thoughts
Overall, I think it's a good idea to hire ghost writers on fiverr most especially if you've come across the ones that know their shit.


Trust me, if you are not careful, you just might end up hiring the wrong person, which is why I'm giving this review in the first place.


Because I do not want you to go through the stress of finding a ghostwriter, I've done all of the hard work for you.


So you might as well place your orders now, using the link I provided above.