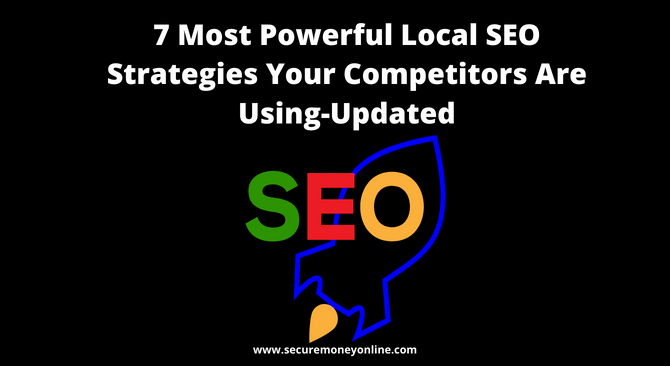 Local SEO is one strategy that is important for every small business. As a business owner who owns a website or an online store, it only makes sense for you to carry out a proper SEO on your website or online store; this will increase the chances of your business being found on the search engines and you know what that means for your business right?


What if you don't own a website and you are just a small restaurant that would love to be found on Google by your customers? Well, that's where local SEO comes in.



What Is Local SEO?
Local Seo involves you claiming your business listing by putting up a Google my business Profile and optimizing for the necessary keywords in order to be able to appear in the map pack of search engines.

I know this might sound a little bit confusing but below is an image buttressing my point.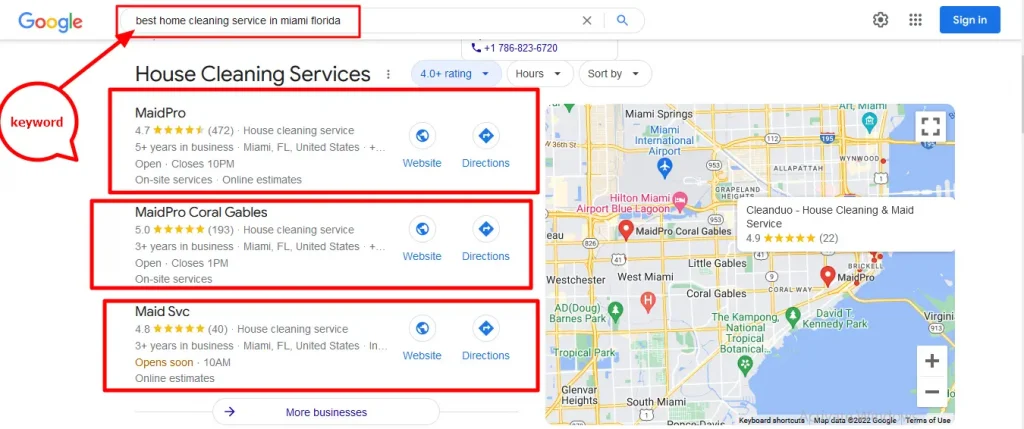 From the image above, you can see that when I searched for the keyword "best home cleaning service in Miami Florida" Quite a number of business listings popped up. This is a typical example of local seo; you can target audience within your area of business.

With local seo, when a user searches for a term like "best restaurant near me", so long as you own a restaurant and you've claimed your business listings plus you did proper local seo on your business listing, then your business is likely to appear on the first top 3 listings on google.


Why local seo is amazing is that even if you own no website, you can still claim your business listing, unlike the NORMAL SEO.


Local seo is important for every business that wants to be found locally. Imagine owning a business and then creating a website for that business, yet you find it hard to rank on google or any other search engine.


Do you know that claiming your business listings can help save you from a lot of heartache coming from depending fully on Normal SEO? Yes! You heard that right!


As a business owner, it is very possible for your listing to appear on the first page of google, and it is also very possible for your website not to be anywhere near the first three search results on the first page of google. I will explain this in detail using the screenshot below.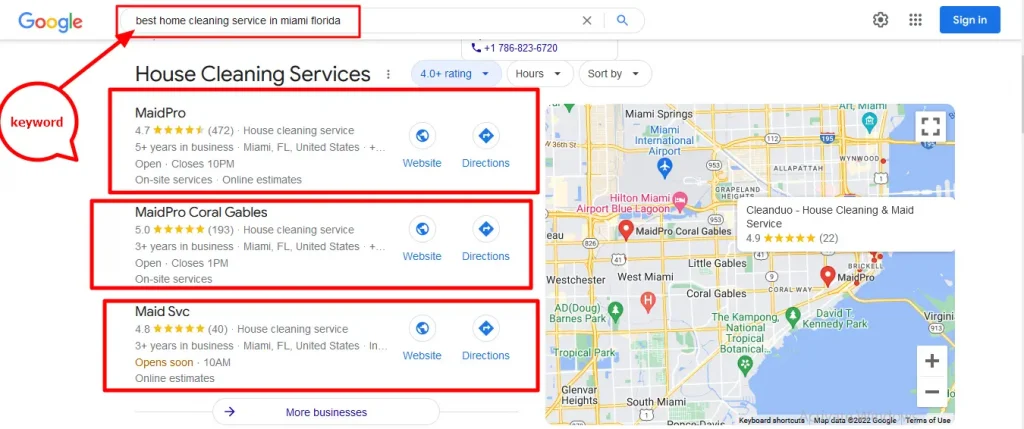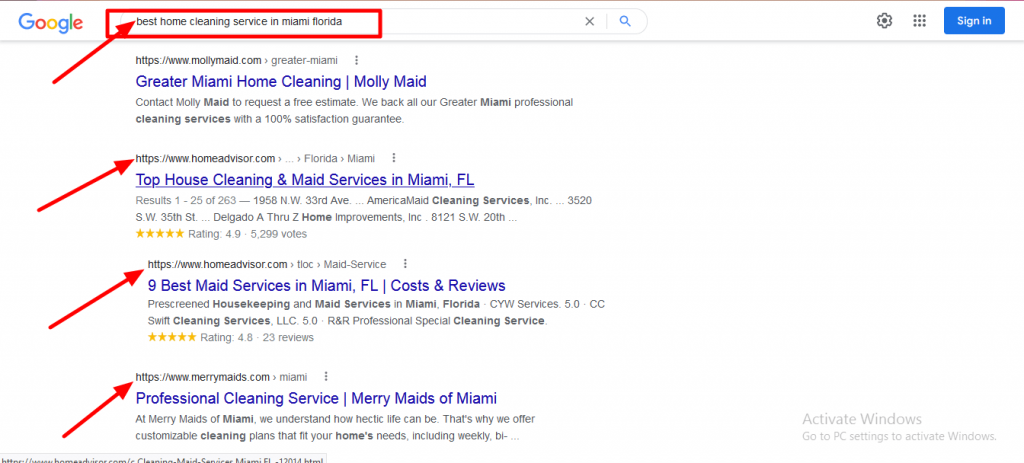 As you can see from the above images, the first image contains a business listing, while the second image contains an organic search result(which is the normal SEO).


You can see that some listings that appeared for the search term… "best home cleaning service in Miami Florida",  did not appear in the organic search result even if you were to scroll down to the second page of the GSER(google search engine result.)

Chances are, these businesses are not even ranking in the first three pages of google SER. Imagine if these businesses had not claimed their business listings!



What Is The Difference Between Local SEO And General SEO?
The core difference between Local SEO and general SEO(also referred to as Normal SEO) is that with local SEO, you can actually claim a business listing without a website, thereby increasing your chances of ranking on google's first page, While with general SEO, you definitely would need a website to be able to rank on google's first page. Other differences include:


1. With general SEO, You would need to do both on-page and off-page SEO to be able to rank on google's first page; but with local SEO, you need only off-page SEO, which is otherwise known as local citations.



2. With General SEO you don't actually need Citations to maintain a spot on google's first page, but with local SEO, you actually need citations and by citations I mean, your business being mentioned by third parties.


For you to know how many times a business has been mentioned, just head on to google and type -site:site link "-site:site link"
EXACTLY LIKE THIS: -site:https://megdigital.com "-site:https://megdigital.com"


The place where sitelink is written, replace it with the link of the site you would love to get information about.
3. With local SEO, You don't need to optimize for speed but with general SEO you need to make sure your website loads fast.
The list of differences could go on and on…

Is It Advisable To Claim My Business Listing Without A Website?
It actually depends on what you want and your budget. If you are a small business, let's say for example, a restaurant, you can go ahead and claim your business listing without a website.


But when you feel you have enough money, you can get a website for your business, it's important for every business to own a website even without business listings being in the picture.


An average person always wants to look up the website of a business upon hearing about them for the first time, it kind of builds relationship and trust.


What Happens When You Have The Budget For Local SEO And Normal SEO?
Well, that makes it a lot better as they actually work hand in hand. Just note that you don't actually need to wear yourself out if you lack enough budget.


So, I would be walking you through all you need to know if you are planning on implementing both processes for your local SEO strategy.



7 Most Powerful Local SEO Strategies Your Competitors Are Using In 2022
This ultimate guide would be telling you every major step that you need to focus on so you can show up in local search, making you way more visible; and of course, more visibility leads to more customers.


Your competitors are probably already doing some of this whether it's intentional or not. So, if you want to outrank them, you just need to do slightly more of it than they are.


When I say local seo and normal seo, I really mean different places you can be found.
First, is in the map pack, just as one of these three featured businesses in the image below.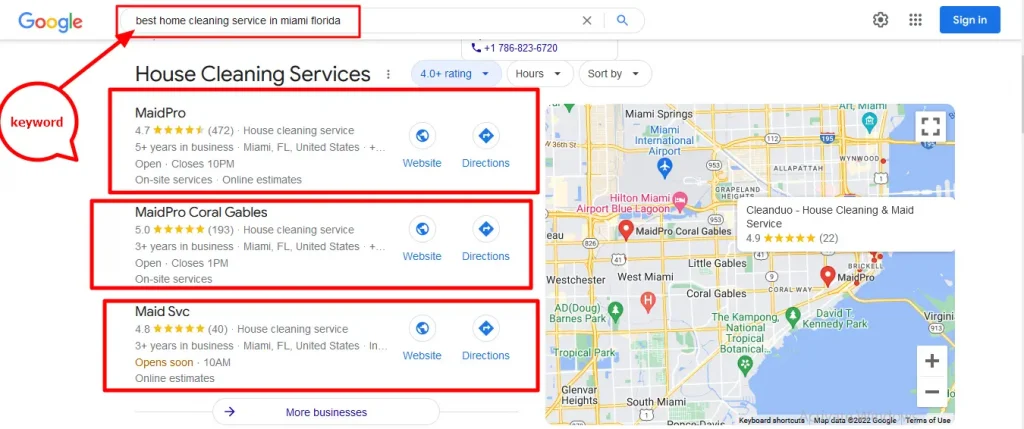 And second, is in the organic search engine results just underneath the business listings. Cite some examples below.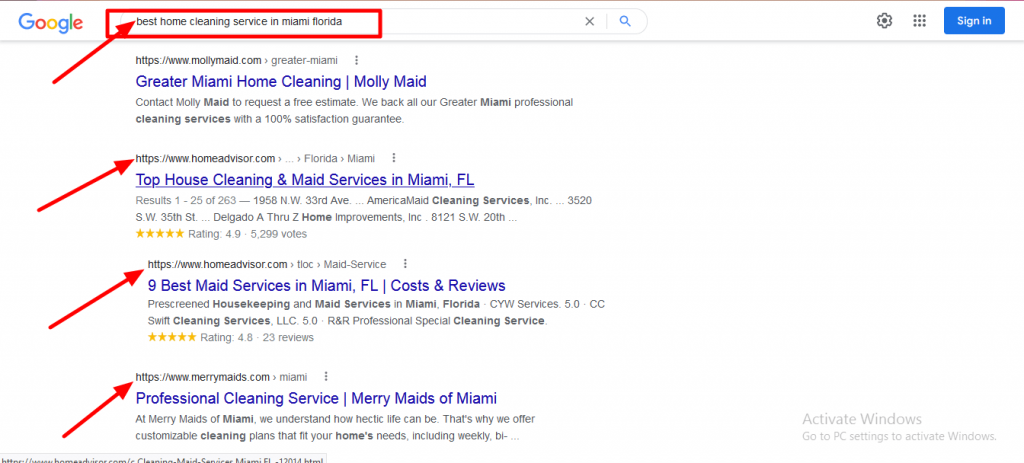 There's one really important difference between these two placements. The map results change pretty drastically based on the physical location where your prospective customer is searching from. Basically, google is always trying to show the closest results to them.


The organic listings underneath, however, are pretty much the same across the board no matter what; which is great. It doesn't matter whether you're centrally located or not.


So what I'm going to show you here today is going to work together, so you can ideally show up in both places, especially for those customers who happen to be close to you, which you know puts you in a pretty great position over your competitors.

And the first thing you need to do here is:


1. Find Your Keywords That Your Local Customers Are Going To Use To Find You
There are a ton of keyword research tools out there, but my favorite one can be found at semrush.com
They happen to have a free trial, so you just might want to try them out.


2. Set Up Your Google My Business Profile For Success
Now, according to moz.com the signals that you send out with your google my business profile is the single most important factor for ranking in the map pack and you probably already have a listing if you've been around for a bit.


Though, there's a right way and a wrong way of filling that out if you really want to stack the deck in your favor.


First off, make sure that yours is filled out completely 100 percent; and of course, you'll know how filled out it is because they actually tell you with a completion score like the one in the image below.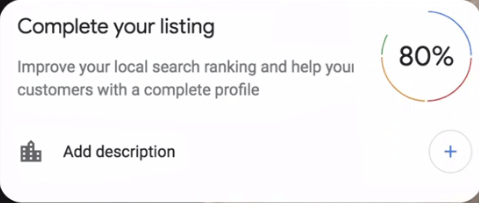 Even if you've got a perfect 100, I still recommend going even further than that if you really want to dominate. So, I want to tell you about a few above and beyond measures you can take starting with the categories that you choose to describe your business.


Now, they make you choose your top-level category, and that's actually where most businesses stop but you're not going to do that right? You're going to want to also choose a few secondary categories that'll help you rank for even more keywords.

Just make sure they fit at least one of your services and you should be good to go. You also want to make sure to pay close attention to the services and product sections on the left sidebar.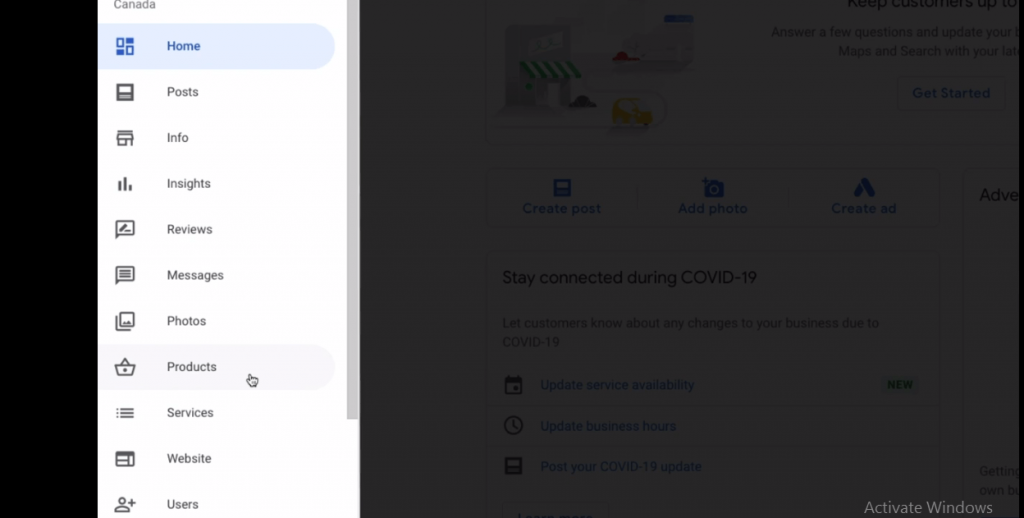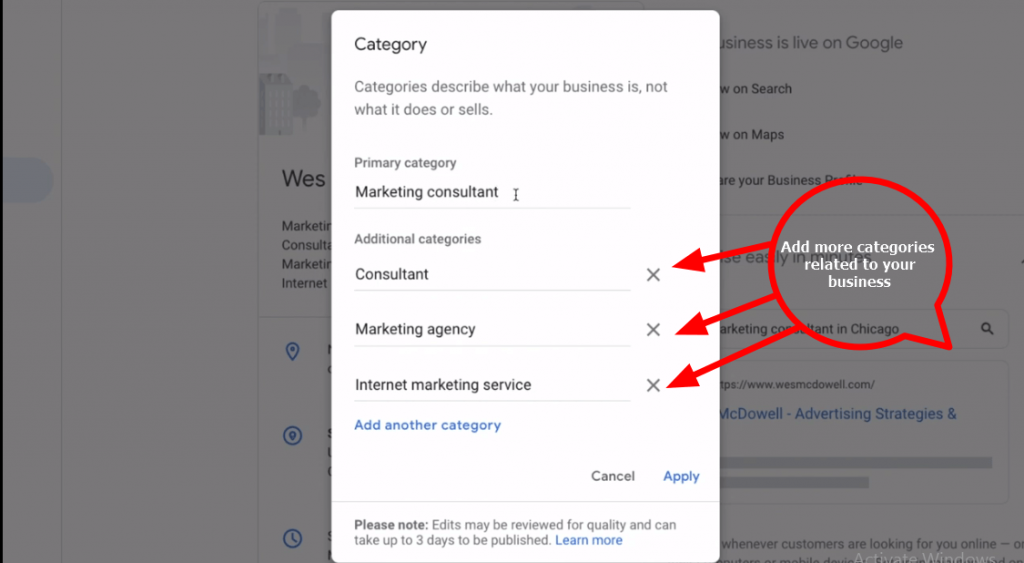 This is going to give google some extra content about what you offer; not to mention that these are just really fantastic places where you can naturally work on some of your keyword phrases for extra SEO power.


Now, this is a fairly new development when it comes to google my business. It's really the first time that we're seeing that reviews are directly impacting rankings; so, what you should be doing is making a strong push this year to get more five star reviews from your customers.


3. Get More Of Those Five Star Reviews From Your Customers
Here's the thing. You should be replying to every review you get because it's really likely that having your desired keywords in the text of your reviews is going to help strengthen your SEO scores.


So, not only does replying to a review help your customer service, but if you can work on a keyword phrase in your responses, it definitely wouldn't hurt.


Just don't be obvious about it. The main emphasis here should always be either thanking them for a rave five-star review or trying to smooth things over and make things right in the case of a bad review.


Once google my business is in optimal shape for you, you need to focus on what your website says.


4. Focus On What Your Website Says
It's super important to understand that what google is really looking for right here is a lot of consistency across your google my business profile and your website.


Together it should all paint a really clear picture about what you do and that you are a legitimate business in the area that you're trying to rank for.


Even if you can't realistically rank in the map pack across your entire service area; let's say you cover a tri-county area or something, you can create location pages on your website for each city and do the work and hope to rank each of those pages in organic search.


It doesn't matter if you have a physical location there or not, but there's a right way to do this too, and most people do it completely wrong.

So, if you want to do it right, there are a few things to keep in mind. First off, do not treat these pages like an after-thought.

If these location pages are how you're planning on getting actual customers, you need to design them and write the words on them like actual human customers are reading them.

In other words, treat them like homepages with actual persuasion-based copy and benefit sections and testimonials much more like this: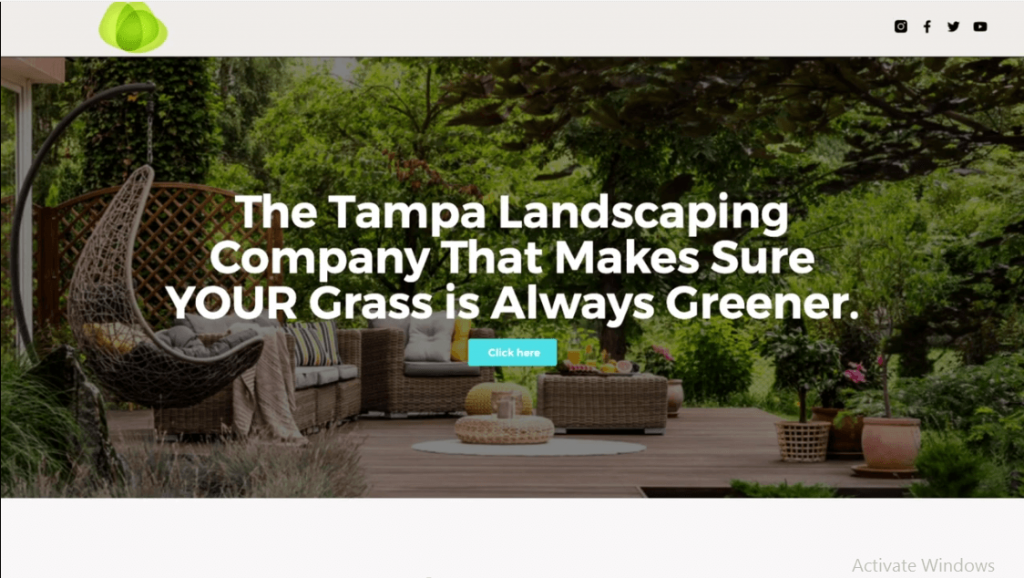 than this: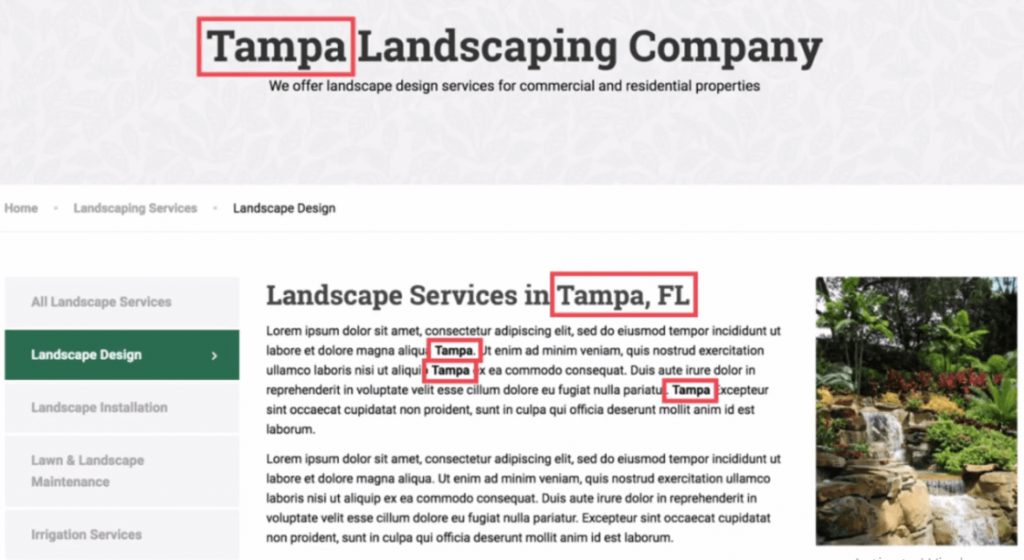 If you create these pages purely for search engines and then you turn off all your human site visitors in the process, they bounce.

And guess what; google is going to notice that; and now, whose page are they less likely to show to the next person who makes the same search? Yours!

So, you gotta make pages appealing to human visitors or you know all of your SEO work is eventually just going to burn itself out due to lack of interest.

Design the pages to look more like well-thought-out home pages and then, turn that into a reusable template where you can change the text on each individual city location page.

Now, I'm not just saying change the city names. You need to change all the text because unique content is extremely important.


If you reuse the same copy from page to page, google is only gonna count one version of that; the rest of the pages are never gonna hope to rank for anything.


So, make sure you're using your most desired keyword phrase along with each city's name in your H1 header, which is just what we call that main heading on the top of the page.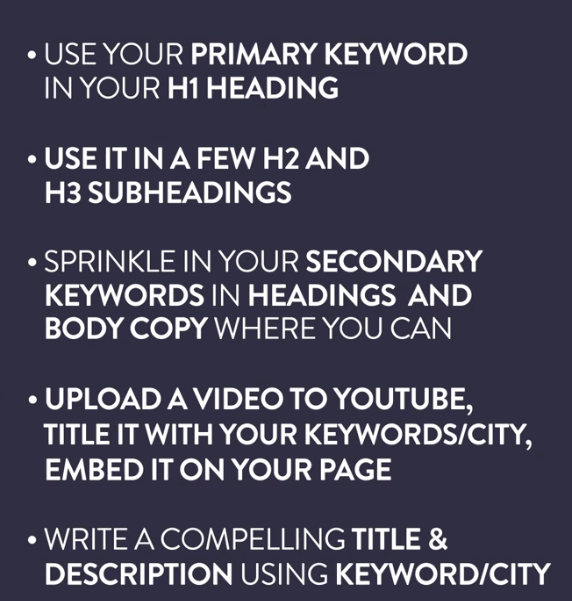 Then use it in one or two secondary headings and a few times in the body copy as well.

Go ahead and sprinkle in some of your secondary keywords into subheadings and body copy where they read well and make sense.


If you have videos you can make those work for you too by uploading them on youtube and then titling them with that same keyword and city name combination.


Take that video and embed it on your most important pages that you want some extra ranking power on. Since google owns youtube, having that kind of keyword cross-over is just a really powerful extra signal that you might as well take advantage of.


Finally, give each page a great title and description using that same keyword-city phrase in the title, along with a little something extra.


This could be "a benefit of working with you" or just something that makes you unique in any way.

Then your description underneath the title should include a few more really solid benefits, and the reason you want to do this is because you want your listing to pop out from all the rest of them so you can get more clicks than the other listings above you and beneath you.

If you get more clicks than google thinks you should be getting in your current position, you'll start to climb up the rankings.

When you have all your location pages live and online, you just want to create a really simple footer menu and title it something like "locations we serve" List them all out using your local SEO keyword phrases as the actual link text.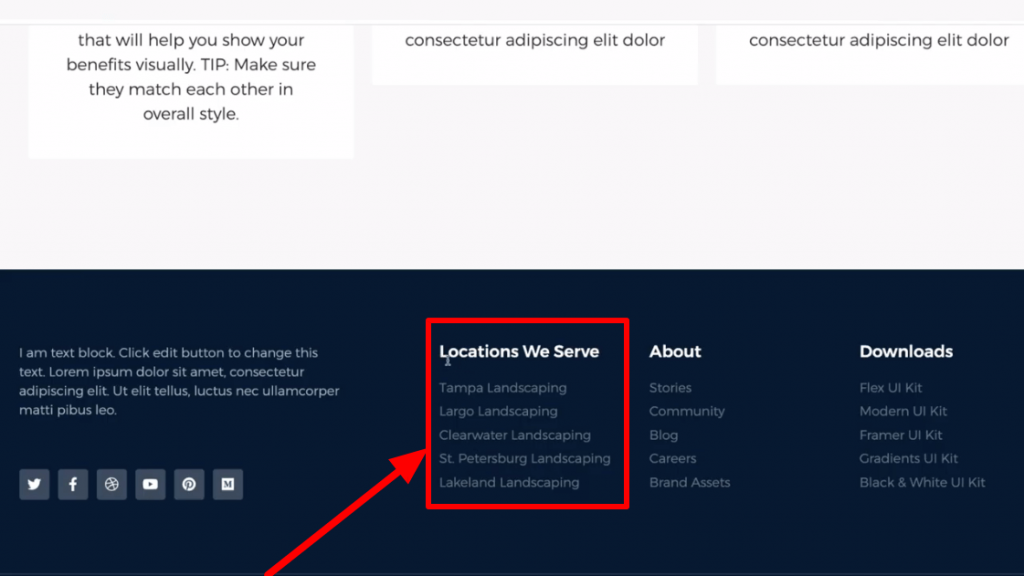 And of course, for any actual physical locations you have, even if it's just one; you probably want to embed a google map on the page for the city that you're located in.


Example, let's say you've got location pages for every city in boulder county in colorado but you're actually physically located in the town of Louis ville.


Let's say you do all your city pages as normal like we talked about but then, on your Louis Ville page, you just want to add your NAP to the page with your complete business name, address and phone number.


Doing that is going to give you some extra power to rank in the map pack within your actual physical location.

Okay! So, remember when I said that google likes to see consistency across your google my business profile and your website?

Well, the plot thickens here because they also want to see consistency between those things and across the entire internet, specifically, any mention of your business and we call these mentions, citations.


5. Citations
Citations appear on your social profiles, business directory sites, review sites, and anything like that.

The goal is to not only have as many mentions or citations as possible across the internet, but they also need to be super consistent too.

I mean consistent with each other and with what your website and your google my business say.

So, what exactly am I talking about? What needs to be so consistent? Well it's your business name, address, and phone number otherwise known as the NAP are what need to be consistent.

When you're building your citations and listing, I do recommend starting with the format that they give you that's listed on your google my business profile.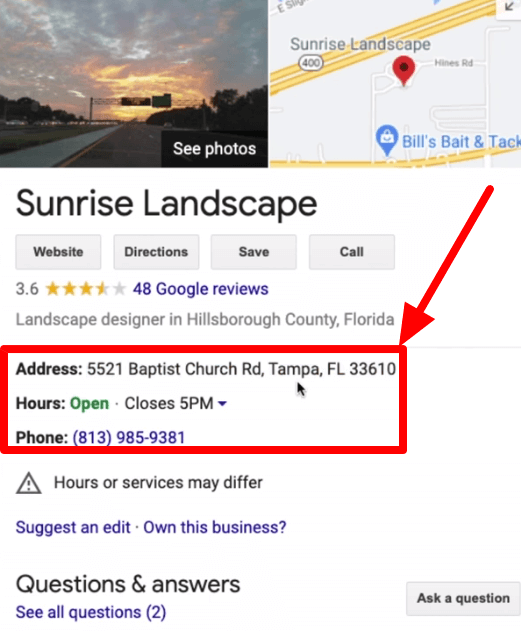 So, you'll put in your address and then, they'll take what you give them and they'll put it into a very specific format, and that's what you want to copy and paste.

You want to paste it exactly as it's written out there, and write it just that way on your site and all your citations.

I'm talking about if it says "Rd", don't spell out road on your citations.

If it says "No. 4c" don't start using "suite 4c." So, you can either start building citations manually yourself by doing some research on all the different directories that cover your industry and your local area and then, submitting them one by one.

Honestly, I would recommend outsourcing to a company that just specializes in this kind of thing because it's not that expensive and that way, you can really concentrate your efforts on the stuff you can do.


6. Link Building
Having a lot of good links to your website from other sites has always been a key ranking factor and honestly, it's not any less important today than it was 10 years ago.


Not only do lots of good backlinks help you rank your site organically, they also can help you in the map listings now too.


The thing to remember here is, you want to make an extra special effort for local SEO to get links not just from any site out there; but if you can get them from other local businesses, that's even better because these links are going to further tie you to your local area.

So, just make a list of all the local businesses that you maybe have a relationship with and then reach out to them. Especially if they already have a section or a page on their site where they have links to businesses they work with.


You can also really easily get a link from your local chamber of commerce and your better business bureau chapter.


You can also sponsor local events and get some really powerful backlinks out of that too.


What Are The Top Local SEO Tools?
The local SEO tools that work like a charm right now is Shine ranker and Fatjoe. These tools actually help you take your business from where ever it was before, to the next level.


Just to be clear, Fatjoe is not a tool but a service that can actually help you build powerful citations that will get your business listing ranking in no time.

However, You can watch the video below to see how the shine ranker tool is used.


FAQ
Does SEO Work For Small Business
Yes, it does


Do Local Businesses Need SEO?
Yes, they do


What is NAP In Local SEO?
NAP is an acronym in local SEO that can simply be translated to mean Name, address, and phone number.

When optimizing your website and online presence for local search, the NAP for your company must be exact and consistent because Google loves it when accurate information is provided to its users.

How Does Local SEO Help Small Businesses?
Local SEO helps small businesses by giving them the room to rank on the first page of search engines which equals traffic and sales, And of course you and I know that the end goal of every business is to make sales.


Is Local SEO Still Relevant?
Yes, very much relevant.


How Do Local Businesses Do SEO?
They actually hire an SEO agency to do their SEO for them.


How Much Should I Pay Local SEO?
It actually depends on the quality of the service. However, local SEO services ranges from $50- $60 per hour but you can get this service at a more discounted price here


What's The Difference Between Content Optimization And Seo?
SEO wouldn't be complete without content optimization.
Content optimization, however, falls under one of the Categories of SEO which is known as On-page SEO.


What Kind Of Business Can Use Local SEO?
Any business at all can use local SEO, so long as the end goal is to make sales.



Read also: which reports indicate how traffic arrived at a website?



Why Is Local Seo Services Important For Local Business?
According to Google, 76% of people who carry out a local search on their smartphone visit a business within 24 hours, and 28% of those searches result in a purchase.

Google also reported that 30% of all searches it processes are related to location,

61% of consumers said in a recent local search survey that they search locally every day.

A recent local SEO survey found that 82% of consumers read online reviews for businesses during a local search and spend close to 14 minutes doing so before making a decision.

86% of people rely on Google Maps to find the location of a business.

Yelp appears in the top five search results for SMB searches 92% of the time.

Worldwide, 74% of in-store shoppers who performed their search before physically arriving at the store said they searched for things like [closest store near them], [locations], [in stock near them], and other types of hyperlocal information.

More than half of Internet users worldwide use a mobile device for their local searches.

83% of searchers use Google Search to learn more about nearby businesses; 55% use Google Maps, 44% Apple Maps, 39% turn to Yahoo, and 31% choose bing.


The above statistics can however be translated to mean that local SEO benefits small businesses by:

1. helping increase their online visibility
2. leading to a spike in in-store foot traffic
3. Increasing website traffic
4. Increase in calls and visits from map users

However, local SEO is important for businesses because it helps them rank on the first page of google or any other search engine which leads to an increment in visibility and sales; that is of course if you hired a reliable SEO agency.


Does Content Writing And SEO (Content Optimization) Go Hand In Hand?
Yes, it does go hand in hand as SEO will not be complete without the former.


Conclusion
Local SEO is definitely one business strategy you want to take seriously if you really want to move your brand or business to the next level.

I just cannot imagine anyone looking down on this wonderful alternative that has changed the lives of a lot of business owners.

If you've not considered claiming your business listings on search engines, please do, as you might be losing a lot of traffic and sales without knowing it.